ON INLANDER.COM
• What's happening this week:
The Head and the Heart, Supersuckers, Ralphie May, Madea & more
• News:
WSU not responsible for a football player breaking a teammate's jaw
• Election 2016:
Making sense of the chaos
IN OTHER NEWS
• PREZ POLITICS: Clinton and Trump slug it out Sunday night in the second presidential debate. The debate follows the
bombshell video
capturing Trump talking lewdly about women — which has led various Republicans, including Idaho's
Senator Mike Crapo
, to call on Trump to set down. Trump makes it clear he's
not going anywhere
.
• WEATHER:
Flooding from Matthew
continues to wreck havoc on North Carolina, as 500,000 people are still without power. The storm has been blamed for
19 deaths
in the U.S., and nearly 900 in Haiti.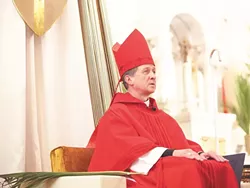 • RELIGION: Pope Francis named
17 new cardinals
, three of them Americans, including Blase Cupich, who previously led the
Spokane diocese
.
• HOLIDAY: It's Indigenous People's Day today, as Spokane has joined a league of cities
abandoning Columbus
.