FRIDAY
Tonight, Spokane's folk-forward group
Folkinception
hosts its own album-recording fundraiser at Iron Goat Brewing Co. The forthcoming CD will be the crowd-pleasing band's second, and their first album was funded by crowdsourcing as well (read about that right
here
). The show, which starts at 7 pm, is free to attend but donations are greatly appreciated.
SATURDAY
With their new EP,
Throw Your Head to the World!
, local act
Boat Race Weekend
is still taking their emotional style of pop-punk quite seriously. The busy group — childhood best friends who formed a band in 2013 while attending Gonzaga University — will share the four-track EP in its entirety at
Saturday's release show
at the Big Dipper, which starts at 7:30 pm and is $8 at the door. The EP was produced and recorded by Dawson Scholz of the Idaho-based the Ongoing Concept.
Over the decade's
Erika Wennerstrom's
songwriting has evolved, but she's still a bluesy belter at heart. To better give you a taste of her style, the singer-songwriter leaves her band, the Heartless Bastards, behind for her
solo show at the Bartlett
this Saturday. The show starts at 8 pm and is $15 the day of.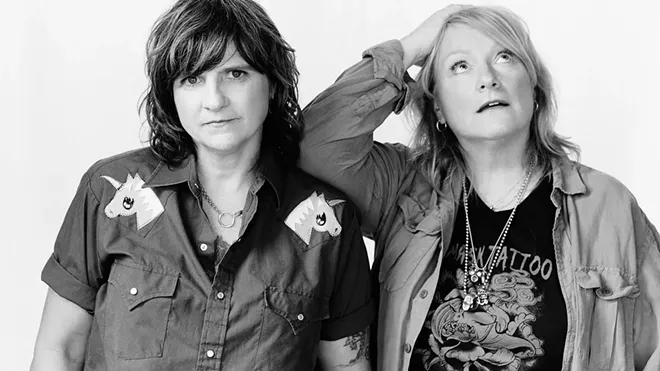 Indigo Girls
hook up with the Spokane Symphony Saturday to deliver one of the most thrilling mash-ups of the season. Expect this totally live set to make you rethink the band's entire catalogue. The show starts at 8 pm and starts at $40. Read our fresh interview with the band
right here.
Mickey Avalon
is another one of those performer's who can't stay away from playing in Spokane. That nearly naked women are a mainstay at his wild stage performances may also have something to do with why many music fans keep heading to the shock rapper's shows every time he comes through. He takes to the Pin! stage Saturday night at 7:30 pm with local acts opening the show. Tickets are $20.
SUNDAY
Sunday, we have a Beatle in our midst and he'll have a little help from his friends. The All-Starr Band includes Todd Rundgren (of Utopia, who also helped produce albums for New York Dolls, the Band and more), Gregg Rolie (who co-founded Santana, Journey and Abraxas Pool), Steve Lukather (of Toto), Richard Page (of Mr. Mister), Warren Ham (who's toured with Kansas, Olivia Newton-John and Cher) and Gregg Bissonette (a long-standing studio drummer). Ringo Starr will certainly play his hits at the INB Performing Arts Center show, but expect each of his band members to get a moment in the spotlight as well. Tickets start at $40. Read our preview article right
here.
Heavy rockers Anthrax
last came
to Spokane last year opening for Volbeat, but this time they're back dazzling in the headliner slot at the Knitting Factory. The show starts at 7 pm and is $23. Death Angel and Children of Atom open.