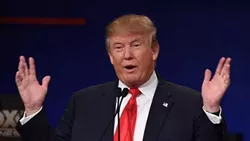 ON INLANDER.COM
NEWS
: In case you missed them, read our stories on the state's
gubernatorial race
and the
Spokane County Commissioner race
in this week's paper.

HERE

Sex trafficking investigation
Two people were arrested and
16 women were recovered
in Spokane and Airway Heights as part of a statewide sex trafficking investigation. In total, 14 people were arrested in Washington who were suspected of forcing 72 people — and five children — into prostitution. (
Spokesman-Review
)
WSU fall has student in critical condition
For the third time this semester, a Washington State University student
fell off a deck
. This student, 18-year-old Nathan Hopkins, was taken to the hospital after he fell 11 feet and went unconscious. He's in critical condition. (KREM)
Climbing graduation rates
The country's graduation rates are now at a record-high 83 percent,
according to a new report
. In Spokane, the graduation rate is 84.5 percent, up 10 percent since five years ago. (KXLY)
THERE

Conspiracy theory

As Donald Trump has dropped in the polls, his rhetoric calling the election "rigged" has increased. That has
alarmed government officials
and both Democrats and Republicans.
Bush out
Billy Bush, the man Donald Trump trusted enough to talk about sexual assault with,
has been cut
from NBC's
Today
show.

Broken promises
The apocalyptic battle that Islamic State leaders had promised would take place in the village of Dabiq will have to come ... some other time. They
lost the village
to Syrian rebels in a matter of hours over the weekend.