Near the end of
The 1975's
90-minute set, a bra was ceremoniously thrown onto the stage from somewhere in the audience. Which wasn't terribly surprising as the mostly female crowd of teens and 20-somethings seemed to hang on every word that heartthrob/frontman Matthew Healy — who occasionally paused to sip from a glass of red wine and steal drags from a cigarette — was singing.
Spokane's reaction to seeing the
ultra-popular British pop-rockers the 1975
this past Saturday night was something reminiscent of millennial Beatlemania. As simply a casual fan of the band's upbeat yet broodingly lyrical music, I confess that I felt a little bit like a fraud while observing the crowd's frenetic reaction to the band's first-ever Spokane show, which sold out soon after being announced months ago. I didn't know the names of, nor the words to, most of the songs minus a few favorites. But standing on the side of the crowd — along with some bored chaperone moms on their iPhones while waiting for their teen daughters — I could easily affirm that back when I was a teen or even during my college years, I definitely would have been one of those young women screaming and jumping up and down with my friends in reaction to the opening chords of this or that song.
Despite feeling a little disconnected from the crowd's hype, this show was unmistakably worthwhile. The sound production and the band's stage setup, with bright light-projection pillars that backlit them in epic fashion and washed the crowd in blue, pink and red, were some of the best I've ever seen from groups playing the Knitting Factory. Also, considering the viral popularity of the 1975, and how quickly this show sold out, it seems obvious the concert could have easily moved to a larger venue, like the Spokane Arena's Star Theater. Just sayin': more tickets (even at $44 a pop) would have been sold.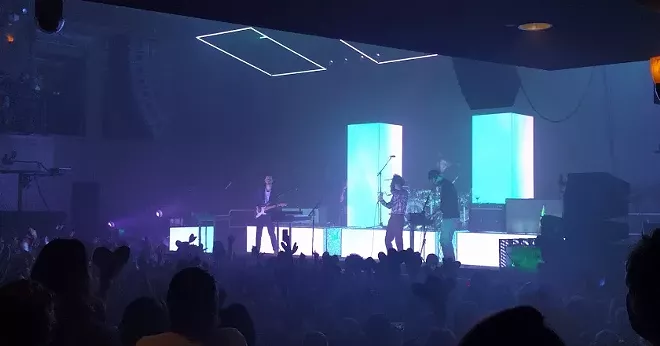 While most of the concertgoers seemed more than content just to see and hear the Brit rockers live, I couldn't help but feel that their interactions with us — Healy spoke little between songs — was less than genuine. Spokane was yet another stop on another long U.S. tour, at another venue again filled with a starstruck, mostly female audience. (To the bros in the bar emphatically jumping up and down and singing to the opening numbers of the night, I salute you.)
Yes, Healy did say something to the effect of they'd never been to Spokane (I think he pronounced it Spo-cane, but you know, there was lots of screaming...) and they appreciated such a warm welcome. After slowing things down halfway through for a bit of an interlude, however, he did get on the celebrity soapbox to deliver the following proclamation, which I did my best to frantically make note of:
"I know we're here as a distraction... but the thing is, this year in England we completely fucked it up and in a nutshell, what it was is that a younger generation expected an older generation to be responsible…. We expected them to make the right decision and they didn't…. The situation in America is that we're all very, very close to a very fucked up situation. It's easy for me to say fuck Donald Trump. Every night we see thousands of intelligent liberal people... What I mean is, you have to vote or you're fucking dumb. Don't vote for Donald Trump."
And of course, the crowd (many in attendance may be voting in their first presidential election) went wild.
After breezing through hit after hit from both of their chart-topping records, the quartet took a brief break before heading back out on stage for a three-song encore to end the night. As the crowd slowly filed out of the venue (why does the Knitting Factory not offer more than one exit from the venue to expedite this?!), a line for the merch booth grew, winding down the long hallway leading to the entrance. The energized vibe of the crowd was palpable. These Brits left Spokane swooning.