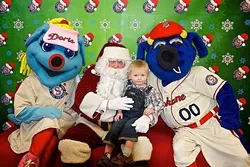 For some people, today marks just
11 more shopping days
until Christmas.
For others, myself included, today marks
61 days until the opening of baseball's spring training
. (Yes, I'm a total baseball dork. Sue me).
The combination of those two factors makes Santa's visits this week to Avista Stadium, home to the
Spokane Indians
, all the more exciting.
From 4-6 pm both today and Thursday, Santa will drop by and hardball fans and their kids can get their picture taken with the fat jolly guy —
he was probably a third baseman
in his younger days — for free, as well as with OTTO the team mascot, Doris the Spokanasaurus and Recycleman.
There will be free hot chocolate and candy canes to enjoy while you wait, as well as 20 percent off everything in the team store and some
deals on tickets
for the
2017 season
.