ON INLANDER.COM

• COMMENT:
People find solace from post-election blues on Facebook's "Pantsuit Nation," and through local events and marches

• CRIME:
Sheriff Knezovich blasts suggestion that he shares blame for Spokane County's high property crime rate

• KIDS:
Parents call for Spokane Public Schools to address Trump-inspired bullying

• THIS WEEK:
Christmas flicks, jingle jams and assorted wintry wonders
ELSEWHERE
• The Electoral College convenes today
Electors are set to
make it official
, formally electing Donald Trump president. Protests are expected at state capitals around the country, though their impact will be limited.
• A bipartisan push to investigate Russian hacking grows

A group of senators, including John McCain and Chuck Schumer, are leading the effort. Trump's aides continue to be
dismissive of foreign interference
.
• Rathdrum appoints only female police chief in the state of Idaho
Tomi McLean, a 22-year veteran of the department, takes over Jan. 1. (
CdA Press
)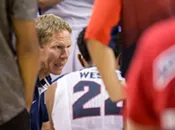 • Gonzaga remains unbeaten after wild second half against Tennessee
The eighth-ranked Zags
are now 11-0
. Next up: the South Dakota Coyotes come to town on Wednesday.