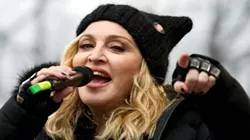 ON INLANDER.COM
WHAT'S UP
: The Spokane International Film Festival kicks off Friday, and this week there's plenty of live music and mysterious beers to lead everyone out of a snowy, slushy January.
IN OTHER NEWS

The latest round of Fact v. Fiction (Inauguration edition)
Trump kicked off his presidency angrily defending the size of his … inauguration crowds with
a series of false or unverifiable claims
, and did some damage control after
asking why his millions of protesters didn't just vote
if they disliked him so much. Counselor Kellyanne Conway said the White House has "alternative facts," (which she didn't share) and that Trump will simply never release his tax returns, neither of which sets a promising tone for the next four years.
Trump considers today to be the first official day of his presidency, Friday's swearing-in be damned, so let's call this weekend a very weak practice run. (CBS,
New York Times
)
A Ray of Light
Madonna got real at the Women's March on Washington, where
she admitted she has "thought an awful lot about blowing up the White House,"
and dropped a few F-bombs to the crowd's elation. She later said she was just expressing the "anger and outrage" she felt initially before focusing on peaceful action. (
Huffington Post
)
Rocky Road
Video shows
Spokane police officer Tim Schwering and a neighbor saving local woman Kim Novak from her burning car
after she hit slush and became locked inside on her way to get ice cream. The cause of the fire is still undetermined and the car is totaled, but an uninjured Novak is probably just fine with the ice cream and wine Schwering brought her the following day. (KXLY)