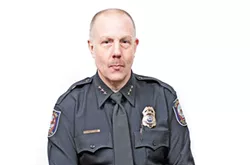 ON INLANDER.COM...

SEE YOU IN COURT!
Remember former Police Chief Frank Straub and his incredibly expensive lawsuit against the City of Spokane? Well, even though it got tossed out by a District Court judge, it's currently
under appeal
in the 9th Circuit.
A couple more of those, and we're talking real bake-sale money

The Wellpinit School District
got busted
by the State Auditor for getting
$400,000
dollars in state funding it shouldn't have.
Here comes the Fastball!
And other '
90s rock bands
to the Northern Quest Casino.
HERE

In City of Spokane, Parking Meter Gets Busted For Not Paying YOU!
The company that the City of Spokane was using for pay-by-phone parking meters owes the city $80,000, so the city is
ditching it
. (
Spokesman-Review
)

It's like Seattle doesn't like Trump or something

Seattle Mayor Ed Murray may sue Trump to figure out, among other stuff, how, exactly, he's defining
sanctuary cities
. (
Spokesman-Review
)
Swedish Fishy
The
Seattle Times
claims the head of Swedish Health
Services,
after it exposed all sorts of shady shenanigans in its
neurosurgery institute
. (
Seattle Times
)
THERE

Basket of Deportables

Trump's immigration plans will dramatically expand the types of unauthorized immigrants who are
deported
. (
New York Times
)

Bathroom Pass?

Ed Secretary Betsy DeVos doesn't like the Trump administration's proposal to
rescind protections
for transgender students in public schools. But Jeff Sessions is a firm supporter of it. (
New York Times
)
Minus the Milo

The Conservative Political Action Conference is today, and it's
Trumpier
than ever. (
Washington Post
)