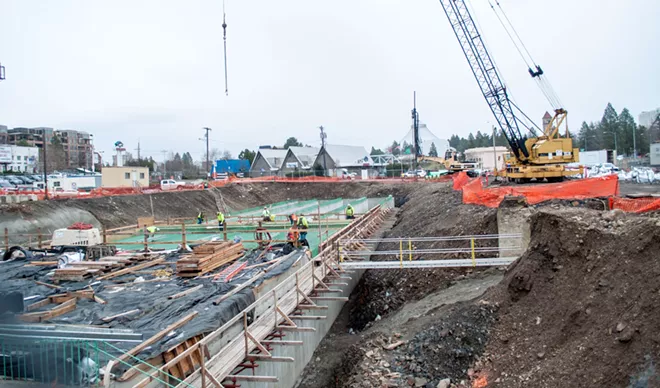 How do you turn a dull, frumpy parking lot into a gorgeous homecoming queen? Makeover, of course.
Everything is still in flux, and things could change. But the plan sounds like it could do for the area directly north of the Monroe and Post Street bridges what Huntington Park did for the Avista property below the Post Street Bridge.
With a city council resolution Monday night, the city moved toward a plan that could result in
a new
climbing wall facility
and the jumping-off point for three different local trails.
It starts with the Bosch Lot.
Way back in 1975 — a year after the World's Fair — the city acquired a little over an acre northwest of Riverfront Park using Department of Housing and Urban Development and Washington State Recreation and Conservation Office funds. The intent of using the funds for that lot, according to City of Spokane Chief Financial Officer Gavin Cooley, was for recreation.
Instead, the lot became, well, a parking lot. Not exactly the highest and best use for recreation.
More recently, the lot has been turned into a big pit so the city can install a combined sewer overflow tank, part of the city's
huge plan
to stop dumping so much wastewater directly into the river.
That's the boring (but important) stuff. The cool stuff comes next.
"It won't be a vacant parking lot anymore," City Council President Ben Stuckart said at the council meeting Monday. "The owner of Coeur Coffee has always wondered why we have kept that a vacant
lot,
because it will help that whole area if we have buildings on there and not a
vacant
parking lot. It's a beautiful area. And now is the opportune time to
as we're building to CSO tank to move forward on that."
First, the city would like to sell or lease some the Bosch lot to a private developer to construct a
climbing wall
facility. The facility would include public
parking
.
"Parks has been talking about this ground on the North Bank," Cooley says. "What if we put a climbing wall on this property?"
Ideally, the thinking goes, the sale or lease would generate enough revenue to help pay for a host of other improvements in the immediate area. The rest of the lot, and the currently closed section of Bridge Avenue between Monroe Street and Post
Street,
would be turned into a
trailhead
.