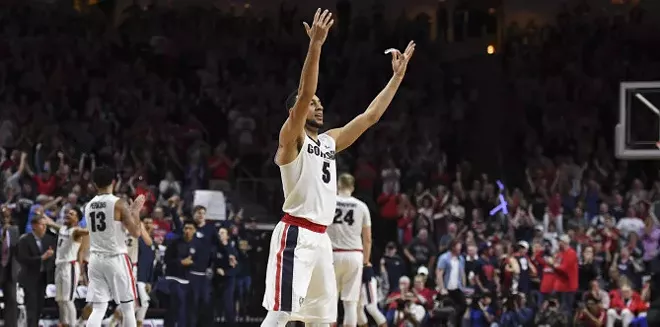 Tuesday night's victory over Saint Mary's assured the inevitable. Gonzaga is heading back to the NCAA Tournament for the 19th consecutive season.
All that's left for the Zags to sweat about between now and Selection Sunday this weekend is their seeding. At 32-1 on the season, No. 4-ranked Gonzaga is completely deserving of a one seed in the NCAA tournament. Until the brackets are announced, though, there will be naysayers saying the Zags haven't earned a top seed.
"I have nothing to say to them," Coach Mark Few said. "I think our results speak for themselves."
The most recent result, a
74-56 win over No. 19 Saint Mary's
in the WCC Tournament Championship, speaks quite loudly on its own. Gonzaga held Saint Mary's, one of the nation's best shooting teams, to 36.8% from the field. The Gaels' veteran, dual-point guard backcourt normally runs a tight ship. But Tuesday night the team committed 10 first half turnovers en route to a 21-point halftime deficit.
"We were so poor I can't even tell you," Saint Mary's Coach Randy Bennett said. "In the first half there wasn't a phase of the game we were good at."
Gonzaga completely dominated a team that has spent every week this year, from the preseason to postseason, ranked in the AP Top 25. In one night the Zags debunked two of the most common criticisms leveled against them: that they don't play anybody, and that they're never tested.
"We talked at halftime about how Saint Mary's is an excellent basketball team," Few said.
Sure enough, the Gaels fought back. With just over 10 minutes left in the game they had clawed their way to within five points of the Zags. In front of Dick Vitale and a primetime ESPN television audience, the Zags found themselves in challenged in March.
Their response was quick and emphatic.
In just over one minute, three quick plays blew the game wide open. With 5:55 to play Przemek Karnowski (15 points, 10 rebounds) scored and was fouled. He missed his free throw, but Zach Collins was there to put back the miss. Nigel Williams-Goss, who was named tournament Most Outstanding Player after recording 22 points along with six assists, steals and rebounds, followed suit with a basket and foul shot of his own. On the next possession, Silas Melson (10 points) did the same.
Gonzaga's lead went from single digits to 17 and the sold-out, overwhelmingly pro-Gonzaga room at Orleans Arena went from stressed to screaming. Saint Mary's had no answer.
"It was a heck of a championship game," Few said.
---
GONZAGA WOMEN TAKE THE TITLE, TOO
Gonzaga's women's team might not get the hype of the highly ranked men's squad, but they equaled the men in every way that counts, winning the WCC regular-season title and following it up with a WCC tournament championship.
In fact, the women arguably had a more significant win Tuesday with their
86-75 win over Saint Mary's
since the Zags weren't assured a trip to the NCAA tournament without it. Jill Barta set a championship game record by dropping in 37 points, and as a result coach Lisa Fortier and the Zags get to watch Selection Monday next week and find out who they'll play in March Madness. (DAN NAILEN)