ON INLANDER.COM
NEWS
: STA bus drivers
want a plexiglass shield
to protect them from violent or angry passengers.
MUSIC
: Paul Simon is coming to
play a show
at the Spokane Arena in June.
NEWS
: Did you know Spokane Public Schools had a safety tip line? Probably not, which is why the
district is "rebranding" it
.
IN OTHER NEWS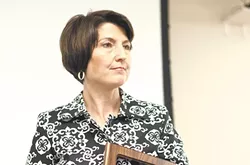 Broken promise?
Remember how U.S. Rep. Cathy McMorris Rodgers
once said
that "no one who has coverage because of Obamacare today" will lose coverage? Well, the Congressional Budget Office released a report saying the House Republican plan to replace Obamacare would
leave 14 million people uninsured
by next year. (
Spokesman-Review
/
New York Times
)
We learned our lesson
The Spokane City Council
voted last night
to change its plan for snowplowing next winter. The plan calls for speedier snow removal and for the city to prioritize plowing downtown, near schools and hospitals. (
Spokesman-Review
)
Mumps still getting worse
You didn't think the mumps outbreak in Spokane was going away, did you? According to the Spokane Regional Health District, cases of mumps are
still on the rise
, with 269 verified cases in the county. (KXLY)
Searching for evidence
The House Intelligence Committee has
asked the Department of Justice
for evidence of President Donald Trump's claim that Barack Obama wiretapped him during the election. If no evidence is given by March 20, the committee threatened to use a "compulsory process."