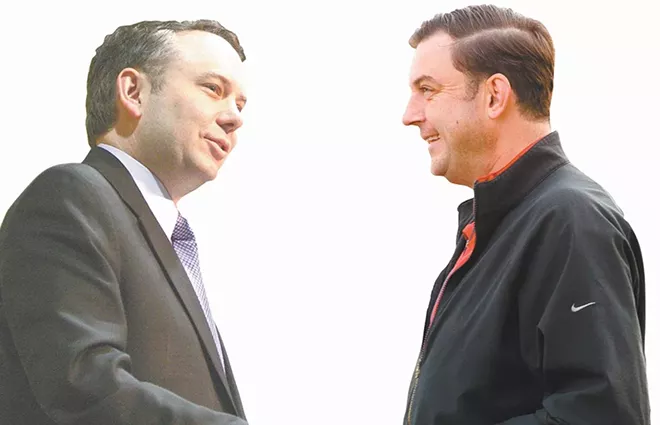 The political action committee had about as a generic a name as you could get: "Spokane Citizens for Political Education."
It only lasted for a few months in 2014 and 2015. Three union organizations — the Washington State Council of County and City Employees, the City of Spokane Managerial & Professional Association, and the Spokane Firefighters Union PAC — donated the entirety of the PAC's $12,600 campaign coffers.
And $12,400 of that was spent hiring a polling firm,
EMC Research
, to test a key question: How would City Council President Ben Stuckart fare if he ran against Mayor David Condon in the 2015 election?
While the favorable ratings of several other mayoral candidates, including City Councilwoman Candace Mumm and WSU Spokane Chancellor Lisa Brown, also were polled, the bulk of the questions were aimed at examining Stuckart and Condon. The phrase "Stuckart for Mayor" at the bottom of the PowerPoint presentation prepared by EMC leaves little doubt about the intentions behind the survey.
Now, the survey has re-emerged as the subject of an April 7 Public Disclosure Commission complaint by Glen Morgan, the
same conservative activist
who filed the massive PDC complaint that resulted in the resignation of Spokane County Democrats executive director Jim CastroLang.
Spokane Citizens for Political Education was run by Nick CastroLang, Jim's son. Until contacted by the
Inlander
two weeks ago, Nick had failed to report spending the $12,400 on the poll. He told the
Inlander
he'd have to look into how the error occurred.
"I'm not really sure what happened once the bill was reported," he says. He moved to correct the error.
Today, Stuckart says he remembers that poll coming up in discussions about whether he should run for mayor.
"That was a consideration; we were looking at the data back then, that fall," Stuckart says.
"Other people did a poll, and brought it to me and said, 'Ben, we think you should run for mayor.' ... They said, 'Look at this data. You don't have as good of name recognition as you think you do.' That's what I took away from that poll."
The poll showed that had Stuckart run against Condon in 2015, he may have struggled initially. Condon started with 49 percent of respondents wanting to vote to re-elect him, a number that rose slightly to 50 percent when he was pitted head-to-head against Stuckart, with Stuckart getting only a mere third of the vote.
However, the pollsters believed Condon had vulnerabilities that Stuckart could hammer at through negative campaign ads, driving down Condon's popularity in order to push Stuckart over the top. The polling, of course, did not anticipate the police chief scandal that Condon would become embroiled in during the final weeks of the 2015 election.
Stuckart says the polling wasn't the key factor in his decision to not run for mayor.
"My ultimate decision point wasn't any polling or anything like that. It was my Dad," Stuckart says. "My dad was very ill."
At the time, he was focused on dealing with his father's illness and eventual death. He says his dad died two weeks after he'd made the decision not to run for mayor.
Yet Stuckart also says that his father suggested he was making a mistake.
"One of my last conversations I had with my dad, though, was, he was like, 'You should be running for mayor. You shouldn't be doing this because I'm sick.'"
Asked if he regretted not running for mayor, Stuckart ruminates upon that question for a moment.
"I don't know. Life is full of what-ifs. I just try to figure out what we're going to do next," Stuckart says. "I [recently] had a really good meeting with IBM, with the mayor in San Francisco... I told my wife it was the best couple of beers I've ever had with the mayor. I can't say that if I look back, I should've run for mayor. Things are going alright now inside the city."
The poll of 300 respondents (margin of error: 5.7 percent) reveals a few other interesting things.
In December of 2014, people were positive about where Spokane was heading:
54 percent of those surveyed said Spokane was heading in the right direction, while less than a third said the city was on the wrong track. In fact, despite a conservative mayor at the helm, Democrats were
more
likely to say that the city was heading in a positive direction — at 61 percent — than Republicans.
Most of the city thought Condon was swell:
About 57 percent of respondents had favorable opinions of Condon, while only 38 percent had favorable opinions of Stuckart. However, that was partly because Stuckart's name recognition was comparatively low. The people who'd
heard
of Stuckart were more likely to have a favorable opinion of him than the people who'd heard of Condon.
Initially, Lisa Brown looked like a better mayoral candidate than Stuckart:
More people had heard of WSU Spokane Chancellor Lisa Brown than Stuckart, and more people liked her. Brown — the former Washington state Senate Majority Leader and a possible opponent for Stuckart in the 2018 race against U.S. Rep. Cathy McMorris Rodgers — had higher favorables (44 percent) than Stuckart (38 percent), and slightly lower unfavorables (14 percent) than Stuckart (15 percent).
The most effective attacks on Condon centered on "pay raises" and "cronyism":
About 80 percent of voters thought less positively of Condon after hearing the following attack:
"David Condon has done well by his political appointees and upper managers. While he slashed the city's workforce, he gave pay raises to every single one of his political appointees, and hired 30 percent more upper managers, all making more than $100,000 a year."
Similarly, the most effective "positive" message for Stuckart centered on his fight with Condon over administrative salaries:
"Ben Stuckart has been a leader in our city. When Condon tried to give pay raises to his appointed cabinet members, Stuckart rallied the council and stopped the pay raises while winning back funding to make our community better and more secure."
Last year, Stuckart pushed for
higher salaries
for himself and other councilmembers. Even now, however, councilmembers are paid significantly less than Condon's high-ranking cabinet members.
A generic environmental message beats out opposition to oil trains:
About 72 percent of surveyed voters said they were more likely to support Stuckart with this generic campaign message: "Our city is a healthier place to live and one of the most innovative in the country on the environment because of Ben Stuckart. He has been a leader on the environment through legislation."
But coming out against oil trains?
"Oil trains are a threat to Spokane's environment and our people, and on this issue there is a clear choice. Mayor Condon has taken campaign donations from Burlington Northern, while Stuckart has called for these trains to stop running through our city."
Only 51 percent were more likely to vote for Stuckart with this message, and 33 percent were less likely.
The union-funded poll also tested attacks on Stuckart for being too cozy with unions:
After the full range of negative attacks against Condon and positive ads about Stuckart were employed, Stuckart would lose about 9 percent of the vote if this attack was used against him, the poll found:
"Other people say that Ben Stuckart just isn't fit to be Mayor. He's had multiple ethics violations filed against him, has taken massive donations from unions, and just can't keep his disagreements with the Mayor from becoming personal."
Read the whole thing below:
EMC Stuckart v Condon Poll by DanielWalters on Scribd