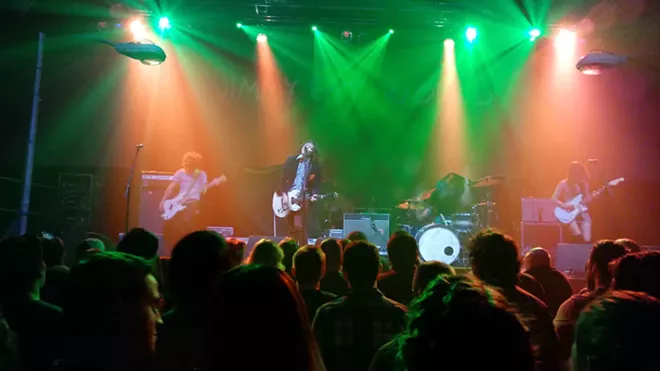 Tuesday night at the Knitting Factory offered a study in contrasts between headliner
Jimmy Eat World
and opener Beach Slang.
Both the long-running Jimmy Eat World and four-year-old Beach Slang trade in big guitar
rawk
, backing vocals that tug at the heartstrings as well as the minds of discerning rock fans, and they largely do it through straightforward tunes that eschew much in the way of modern bells and whistles.
That said, witnessing both bands' sets, it was clear that one had experience, professionalism and a deep catalog on its side, while the other had more youthful exuberance, almost off-the-rails energy and less material to draw from, dropping a couple of winning and somewhat unexpected covers into their set.
While Jimmy Eat World delivered a rock-solid set of two dozen songs spanning their nine albums and nearly quarter-century together as a band, I walked away thinking more about Beach Slang and the genuine sense of danger they brought to their hour on stage.
Led by James Alex (looking resplendent in a velvet jacket, ruffled tuxedo shirt and bow tie), the Philadelphia quartet barreled through songs from their two albums (
The Things We Do to Find People Who Feel Like Us
and
A Loud Bash of Teenage Feelings
), pausing mostly for James to swill more vodka and juice and crack jokes at the expense of various '90s-era bands like Matchbox Twenty and Lit.
Were those jokes sideways shots at the headliner? Hard to say, but Beach Slang definitely got more animated as Alex drank more cocktails, and his windmilling guitar strokes and bombastic approach matched perfectly with lyrics like those in set opener "Noisy Heaven": "The night is alive, it's loud and I'm drunk!"
Much killer garage rock followed, from "Ride the Wild Haze" to "Punks in a Disco Bar," "Future Mixtape for the Art Kids" to "Spin the Dial," before James led the band through short teases of some old tunes he'd been poking fun at: Red Hot Chili Peppers' "Give It Away," Lit's "My Own Worst Enemy," Santana's "Smooth" (several times over). Suddenly, though, Beach Slang turned Oasis's "Wonderwall" into a sincere and epic sing-along, and followed it immediately with the Pixies' "Where Is My Mind?" before closing out their set with their own "Atom Bomb."
The fact it felt like their set might fall apart at any moment, or that James might windmill himself right off the stage or slip on some spilled booze, gave Beach Slang's set an excitement that's all too rare these days.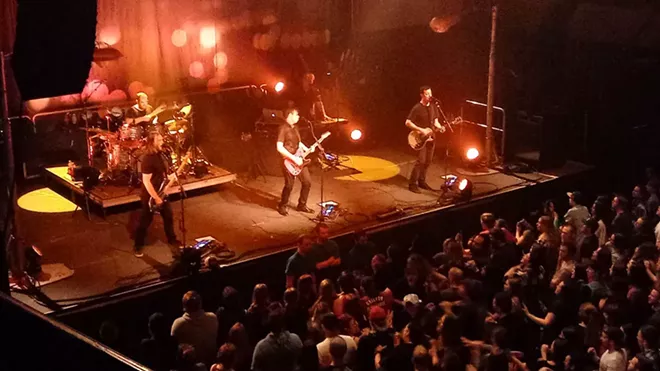 Jimmy Eat World, on the other hand, generated plenty of excitement among the fans filling the Knit merely by taking the stage in their black "uniforms" and launching into "You with Me" from their new
Integrity Blues
album, and following it up with one of their biggest hits, "Bleed American."
The Arizona quartet (joined by a keyboardist/guitarist lurking at the back of the stage) is a machine at this point. They have enough albums and memorable songs to basically do a "greatest hits" show if they wanted, and their fans are rabid enough that a heavy dose of the band's newest music is welcomed gladly.
Tuesday night offered something for fans new and old.
Integrity Blues
songs were prominent throughout, with "You Are Free," "It Matters," and "Pass The Baby" all settling in nicely alongside songs 10 or 20 years older. "Sure and Certain" even got a spot in the encore right after the band's biggest hit, the encore-opening "The Middle."
Watching the band perform, it's as if singer Jim Adkins and Co. haven't aged; they knock out songs with a precision that's impressive, and an energy that helps feed the audience, which on this night broke out into some active moshing on more than one occasion.
Not a lot of bands can unite parents and their kids in a pit, but Jimmy Eat World is one of them.