ON INLANDER.COM
WHAT'S UP?
This week's calendar brings you Hoopfest, Steel Barrel's birthday, David Sedaris and more. Check out a
curated list of events for this week here
.
ARTS & CULTURE:
Best 25 movies of the century so far? The
New York Times
came up with
their list
, so
Inlander
film editor Nathan Weinbender took up the challenge and made his own.
See what made the cut here
.
IN OTHER NEWS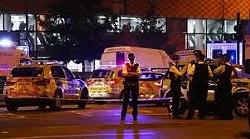 Attack targets London mosque
The
New York Times
reports that UK authorities are
treating a deadly van attack outside a mosque in London this morning as terrorism targeting Muslims
, "amid fears of retaliation for several recent assaults in the country attributed to Islamist extremists."
Offensive or taking back terms?
The U.S. Supreme Court
ruled that a law against registering a trademark of a disparaging term violates the First Amendment
, in a case brought by the Slants, an Asian American rock group who were originally told they couldn't trademark their band name, reports the
Washington Post
.
What remains
Hecla Mining Company (the
same company in a deadlock with miners in Mullan, Idaho
, who are on strike) has
started reclamation work at a mine it bought and closed in Montana two years ago
, the
Flathead Beacon
reports.