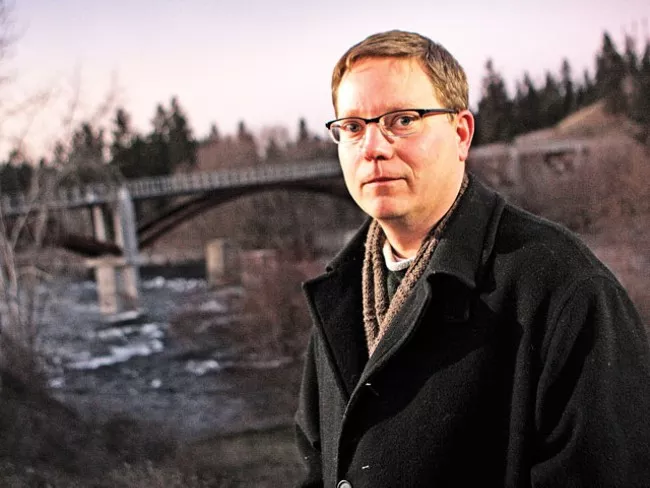 UPDATED:
In a Facebook post on Saturday, Nov. 4, the Center for Justice's Rick Eichstaedt wrote that
he's decided to vote for the ballot measure anyway
, even though he's not sure if it's legal:
So I've been quoted as critical of Proposition [2.] I do have my doubts as to its legality, but I am voting for it. We need to do something to address the danger of oil trains through our community — even if Proposition 1 is struck down by the Courts, it sends a strong message that the voters of Spokane care about the issue and want action. So vote "yes" for Proposition 2!

In particular, Eichstaedt argues that the notion that the city will have to pay to defend the legality of the initiative if it passes is false. He cites a case where the city of Sequim not only refused to defend an initiative that passed in 1998, it sued
the person who brought the initiative forward
.
The Center for Justice
has often been front and center when it comes to fighting to protect the environment. Not only has the organization's Spokane Riverkeeper
frequently advocated
for the health of the river, but the center was part of the coalition that brought a lawsuit against BNSF Railway for violating the
Clean Water Act
by failing to prevent coal chunks from spilling from uncovered coal trains into Washington state rivers.

So you might expect that the center would be championing the "Safer Spokane" November ballot initiative that aims to
prevent
oil-train catastrophe
by fining owners of certain oil and coal train cars that pass through Spokane.
But it isn't.
"We're not taking a position," Center for Justice Executive Director Rick Eichstaedt says. "We actively support efforts [to solve] problems with coal and oil trains. [But] our position would be we don't know, at the end of the day, if this is going to be the right solution."
Ultimately, Eichstaedt, the former Spokane Riverkeeper, isn't convinced that there's a clear path forward that would allow the initiative to survive an inevitable court challenge.
Federal law, through the Federal Railroad Safety Act of 1970 and the Interstate Commerce Commission Termination Act, reserves nearly all the authority of regulating train traffic for the federal government. Courts have
repeatedly held
that ICCTA overrides all "state laws that may reasonably be said to have the effect of managing or governing rail
transportation,
while permitting the continued application of laws having a more remote or incidental effect on rail transportation."
With a few very narrow exceptions, that federal authority overrides any attempt to establish local rules.
"What I can say, is that the doctrine of preemption of local regulation is very exhaustive," Eichstaedt says. "They've got a tough road ahead to make this law stick. Things like speed limits have been struck down. Limits on idling trains to avoid air quality impacts have been struck down."