ON INLANDER.COM
NEWS:
The Spokane Fire Department has
launched its new drone program
.
SPORTS:
Jud Heathcote, who played basketball at Washington State College (that's right; it wasn't yet a university) and coached at West Valley High School, WSU and Montana before winning the 1979 NCAA title with a Michigan State team featuring Earvin "Magic" Johnson, died Monday at 90 in Spokane. Here's a
Heathcote profile the Inlander wrote
in 2009.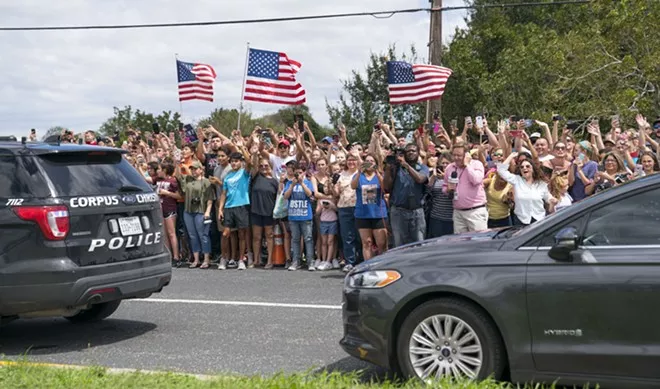 IN OTHER NEWS

Arrest made in WSU bomb threats
Washington State University police have
arrested and charged an 18-year-old WSU sophomore
with making a series of three bomb threats; turns out it was the same student who "discovered" the threats and reported them to authorities. (
Spokesman-Review
)
Spokane cab driver slain in North Idaho
A 19-year-old from Puyallup in Pierce County was arrested in Bonner County, Idaho, in the
stabbing death of Spokane cab driver Gagandeep Singh, 22
, late Monday night in Kootenai. (
Spokesman-Review
)
Fire consumes historic North Idaho hotel
A fast-moving fire
destroyed the historic McConnell Hotel
in downtown Kellogg, Idaho, on Tuesday afternoon, and burned other downtown buildings as well. (
Idaho Statesman
)
Hurricane/Tropical Storm Harvey roundup

•
Moving east:
With the massive storm's death toll rising to a confirmed 30, now-Tropical Storm Harvey
made landfall for a second time
early this morning in southwest Louisiana. (
New York Times
)
•
Cajun Navy:
Volunteers from Louisiana, and their ragtag armada, have emerged as among
the heroes of Harvey
. (
Washington Post
)
•
21 trillion gallons:
All the water that's fallen on Houston,
in one massive raindrop
. (
Vox
)
•
President Trump is impressed:
With
the size of the crowd
he drew Tuesday in his visit to flood-ravaged East Texas, that is. Will White House Chief of Staff John Kelly break it to the president that it wasn't a campaign rally? (
New Orleans Times-Picayune
)
•
Best Buy:
The retailer said it is "deeply sorry"
following accusations of price-gouging
: It charged more than $42 for a case of water at a Houston-area store. (CBS News)
•
Joel Osteen:
The multimillionaire "prosperity gospel" televangelist was shamed on social media into
finally opening his 16,000-seat megachurch
in downtown Houston to victims of the massive floods. (
Houston Chronicle
)
•
Ann Coulter:
On Twitter, the right-wing media pundit posited a novel theory: That
Houston having elected a lesbian mayor
in 2009 is a more credible explanation for Hurricane Harvey than the forces of climate change. (Patheos)