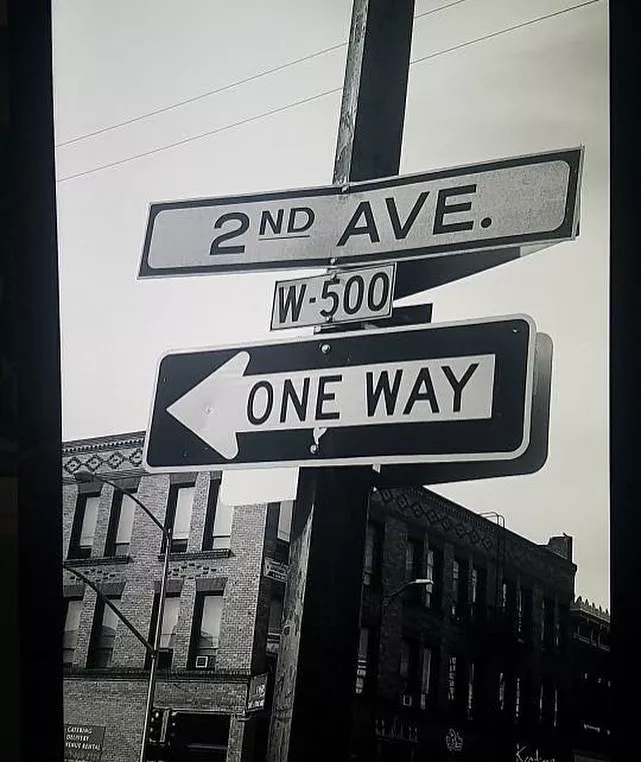 A black-and-white photograph of a one-way sign could easily be interpreted to mean "limitation," the idea that there's only one way to look at something, or one direction in which you're allowed to go. But for the photographer — a kid staying at the Crosswalk youth homeless shelter — it represents hope.
John Robertson, the assistant director for Youth Programs at Volunteers of America, the organization that runs Crosswalk, says the photo is the first sight the photographer sees when he or she steps out the door at the shelter.
"Crosswalk is a one-way — one opportunity for them to go [forward] in life," Robertson says. "They feel that's a pretty significant picture."
Tonight, this photo and 16 others taken by kids staying at Crosswalk will be showcased at the Terrain building at 304 W. Pacific. They've been taken by kids staying at Crosswalk.
"We wanted to highlight not only how talented they are, but what they are expressing through their art as well," Robertson says.
It's all a part of Terrain's "Snapshot" series.
Homeless kids from Crosswalk and refugees from local nonprofit Global Neighborhood were given digital cameras — with a bit of training from photographer Carl Richardson — and asked to document their day-to-day experiences in Spokane.
"They portray the hard times," Robertson says. "Of being isolated. Being alone. Having families or their family systems break apart. There's this hope that shines through as well."
While social services providing food and shelter is crucial, Robertson says that after those needs are met, it's important for people to have ways to process their lives.
"We use art as therapy," Robertson says. "You don't have to be good at art to do art. You just have to want to express yourself in some way."
He's seen that in the way the Crosswalk kids have used their Snapshot photos to tell stories. Their messages come through.
"'These are the places I would hang out whenever I was homeless.' 'This is what I think of whenever I think of my experience,'" Robertson says. "A lot of the pictures do say a thousand words. We can say, 'This is what this means to me.'"
Luke Baumgarten, one of Terrain's co-founders, says the intent of Snapshot is to document Spokane from a wide variety of angles.
"Spokane is changing fast," Baumgarten says. "Let's take a snapshot of it."
The project started out with professional photographers, including the
Inlander
's Young Kwak. Then, Terrain began to include the pictures of amateur photographers through the #SnapshotSpokane hashtag on Instagram. But Baumgarten says he wanted to make sure viewpoints that haven't been often seen were represented as well.
"A photo is a snapshot, a frozen frame from a person's perspective," Baumgarten says. "Unless we get a diverse group of people, we're not going to get a group of different perspectives."
Terrain considered sending out professional photographers to help them document their lives, but Baumgarten says that risked being "objectifying and exploitative." Instead, they came up with another idea: Give people connected with
nonprofits
the tools and training to take photographs themselves.
"Do you think you and your community would find
value
of getting access to cameras and getting lessons from a photographer?" Baumgarten recalls asking. "They were really cool to go along with it."
Baumgarten says he's already seen a few photographs that are part of tonight's Crosswalk show:
"They tend to be close-framed shots," Baumgarten says. "They have a definite artistic perspective to them. The three that I saw, I got a definite sense they were trying to tell a story."
Next Friday at 5 pm, Terrain will add a series of photographs taken by refugees.
Earlier this year, the
Inlander
covered the arrival of
two of the refugee photographers
, Athraa Jameel and Mohammed Hayyoo. They flew into Spokane's airport shortly after President Trump's travel ban was temporarily lifted by judicial order:
"Jameel spent three years with her husban
d
and children in a refugee camp in
Turkey, packed with four other families into a house they couldn't afford to reliably heat. Her reunion with her sister had temporarily been delayed because of the Travel ban."
Jen Landis, communications director at Global Neighborhood, says that former refugees Farah
Ismaiel
from the Sudan, Mahsumeh Rezayi from Afghanistan, and Mohammad Alshaar from Syria will also include their photographs.
"It will be interesting to see what they see," Landis says, who adds that the language and cultural barriers of former refugees added another challenge to the project.
"I think part of the hard part has been communicating, 'We want to see your perspective,'" Landis says. "Culturally, maybe some people haven't experienced an art project like this."
The digital cameras were purchased with help from a donation from the Smith-Barbieri Progressive Fund, Baumgarten says, and the refugee and Crosswalk photographers will be able to keep the cameras they used.
"I would encourage people to come and see another perspective of Spokane, this city we all live in," Landis says. "That is their home. That is our home."