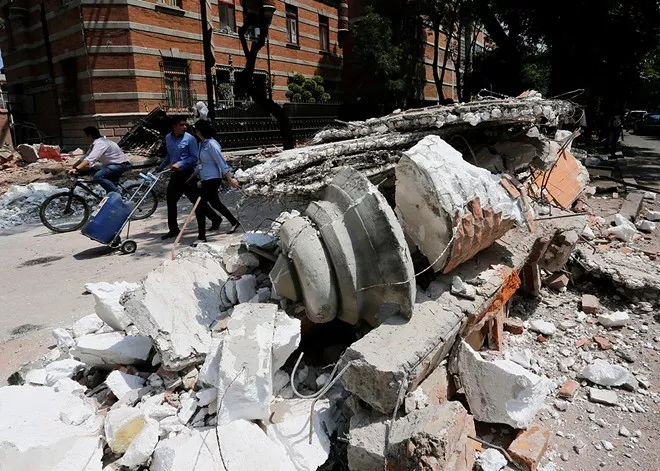 ON INLANDER.COM
EARTHQUAKE:
A
7.1 quake struck the central Mexican state of Morelos
yesterday; the epicenter was 76 miles south of Mexico City, where at least 44 buildings are reported to have collapsed or been severely damaged, with many people buried under the rubble. The death toll, currently more than 200, is expected to rise. (via
New York Times
)

SNOW:
With three days left in a long, hot, smoky summer, Schweitzer Mountain Resort in Sandpoint
received its first measurable snow
yesterday. More snow falling in Montana began extinguishing long-burning wildfires.

IN OTHER NEWS

Maria slams Virgin Islands, Puerto Rico

After striking the U.S. Virgin Islands as a Category 5 storm, leaving widespread flooding in its wake, Hurricane Maria weakened slightly to Category 4 before
slamming into Puerto Rico this morning
with winds of 155 miles per hour; at least 12 of 18 inches of rain are predicted, and the entire island is expected to lose power. (
New York Times
)
More on the Mexican earthquake
Watch:
Here's what it looked like
during and after yesterday's 7.1 quake
. (
Los Angeles Times
)
• This is just the latest in Mexico's
history of cataclysmic earthquakes
. (
Washington Post
)
• In a grim coincidence, yesterday's quake
struck on the 32nd anniversary
of an 8.0 earthquake in 1985 that claimed thousands of lives. (
Los Angeles Times
)

I-90 crash claims life of Spokane artist
Michaelanne Foster, a Gonzaga Prep graduate who grew up in Spokane and was a member of the city's Richmond Art Collective and an
Inlander contributor
,
died on Monday night
when the car she was driving struck the rear end of a stopped semitruck on I-90 near the Freya overpass. She was 24. (
Spokesman-Review
)
Preu to hang up his baton
Eckart Preu, the Spokane Symphony's longtime music director and conductor, announced that the
2018-19 season would be his last
with the orchestra he has led since 2004. (
Spokesman-Review
)

Ethics complaint targets 7th District's Kretz
Rep. Joel Kretz, an Omak Republican representing northeast Washington's 7th District, is the
subject of an ethics complaint
, filed by the group Public Employees for Environmental Responsibility, claiming that repeatedly over the past six years, Kretz inappropriately pressured and threatened WSU officials to take action against Dr. Robert Wielgus, a leading wolf researcher. Kretz denies that any ethical violations took place. (Spokane Public Radio)

No boundaries here
Bonners Ferry's Boundary County Library has been named the
2017 "Best Small Library in America" by Library Journal magazine
. The annual award, which comes with a $5,000 prize, honors
exemplary work of libraries serving populations under 25,000
, more than double the size of the North Idaho county. (
Spokesman-Review
)

Call for action against WSU College Republicans
A dozen Democratic members of the Washington state legislature
wrote a letter to WSU President Kirk Schulz
urging him to
take punitive action against the campus chapter of the College Republicans.
James Allsup was
forced to resign as WSU College Republicans president last month
after the extent of his involvement in the violent, deadly "Unite the Right" rally in Charlottesville, Virginia, was revealed. (
Spokesman-Review
)
For now, FBI staying put
The federal government
canceled a costly, decade-long search
for a new Federal Bureau of Investigation headquarters that spanned the Bush, Obama and Trump administrations. (
Washington Post
)