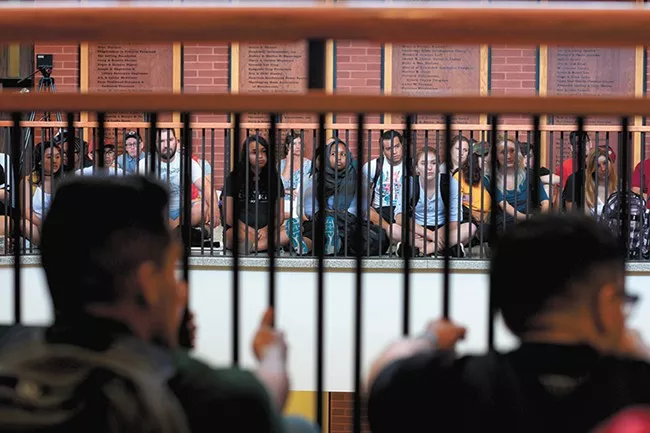 ON INLANDER.COM

POLITICS:
How
campus culture wars in the age of Trump and Twitter
have reached a fever pitch at Washington State University — and elsewhere.
COUNTY COMMISSION:
Gov. Jay Inslee
picked Mary Kuney to fill the Spokane County Commission
seat left vacant by Shelly O'Quinn, who resigned in June. The two remaining commissioners, Republicans Josh Kerns and Al French, could not agree on a replacement, punting the decision to Inslee, a Democrat.
AMAZON:
Spokane
likely won't be the new home
for online retail giant Amazon, despite the
Spokesman-Review's best efforts
to convince its readers otherwise.
MUSIC:
Quentin Tarantino, a landmark Supreme Court First Amendment case, and the
Portland-based pop-punk band the Slants in the middle
. The band plays an all-ages show at the Big Dipper next Tuesday.
IN OTHER NEWS
50/50
If the coin landed on tails, Caleb Sharpe told detectives, he would abandon his plan "and never think about it again." It was heads; now the 15-year-old is accused of shootings in Freeman High School's hallways, killing one classmate and injuring three more.
Court documents indicate he was obsessed with documentaries about school shootings
. Yesterday, prosecutors added 51 new assault charges, in addition to murder and attempted murder, for other students impacted when the accused boy opened fire on the morning of Sept. 13. (
Spokesman-Review)


Iconic Hugh
Hugh Hefner, the founder of
Playboy
and a symbol of America's 1950s sexual revolution, has died of natural causes. He was 91. (
Esquire
,
New York Times
)
False legacy
The effect of fake news on Twin Falls, Idaho, and why the city
still hasn't recovered
. (
New York Times Magazine
)
Poisoned meat in CdA

Police in Coeur d'Alene are looking for the person who is leaving pieces of poisoned meat around the North Idaho city. The tainted meat may be connected to cats attacked with metal blow darts over the past two years. (
Spokesman-Review
)