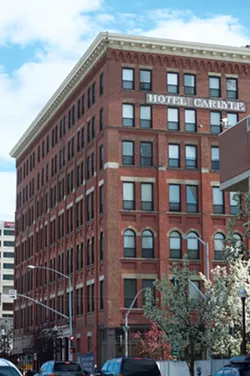 More than 100 assisted living residents have packed their things and moved out of the Carlyle Care Center, as Pioneer Human Services transitions the facility at Post and Second to affordable housing.
About six months ago, the 107 residents then living at the center, which could sleep up to 127,
were told that the facility would stop serving folks with chronic mental illness
, like them.
Their reactions ranged from gleeful to suicidal.
Many wondered where they'd end up
, especially some who've called the building home since before it was converted to a care facility.
Since then, Pioneer has worked with a team of agencies to make sure every resident could get into the right level of care before the end of October, when the facility will officially switch to some type of affordable housing.
Pioneer worked with Frontier Behavioral Health and case managers, as well as the state Department of Social and Health Services, to take residents to tour facilities and help them find the best fit.
Some residents are moving as far away as Winchester, Idaho, making the switch to an assisted living facility in the town two-and-a-half hours away, just south of Lewiston, says Christine Barada, director of Spokane County's Community Services, Housing and Community Development Department, which also oversees the regional Behavioral Health Organization.
"Other people have moved there from the Carlyle in the past and have been really happy," Barada says.
Tags: News , Carlyle , care , center , homeless , mental health , behavioral health , housing , affordability , Image
There's a long list of of people who endorse Spokane Superior Court
Judge Tony Hazel's
bid to retain his seat on the bench.
The former Spokane County deputy prosecutor was
appointed by Gov. Jay Inslee in April
to replace the late Judge Sam Cozza. The
list of names
on his campaign website reads like a who's who of local jurists.
There are 35 judges (some retired), including four state Supreme Court justices, and 80 attorneys, including veteran defense attorneys
Rob Cossey
and Bevan Maxey, alongside Spokane County Prosecutor
Larry Haskell
and Stevens County Prosecutor
Tim Rasmussen
. Center for Justice director
Rick Eichstaedt
also supports Hazel.
"The fact that I have the legal community standing behind me, I think, demonstrates a confidence in me that I make a very good judicial candidate," Hazel says.
But to hear his challenger tell it, those names are exactly the reason why Hazel should not remain on the bench.
Spokane County public defender Jocelyn Cook
says the endorsements, especially from attorneys who may appear in front of Hazel in the future, represent an inherent conflict of interest. Throughout her campaign, she's sought to call attention to what she believes is a flawed judicial appointment and election system in Washington state.
Tags: Tony Hazel , Jocelyn Cook , Spokane County Superior Court , Election 2017 , judicial election , criminal justice , News , Image
Tags: Donald Trump , Paul Manafort , indictments , Russia , Facebook , transgender , Halloween , ghosts , ghost stories , Spokane , News , Image
On Halloween Eve, and inspired by a new take on the classic
Halloween
movie theme music, we decided to pull together some of the grooviest of ghoulie tunes to help you get in the spirit of the season:
Trent Reznor & Atticus Ross: "Halloween Theme"
This quintessential slasher film's unnerving theme song gets a Trent Reznor and Atticus Ross reboot for next years'
Halloween
film directed by John Carpenter. As if the old theme wasn't inimical enough, the
duo does their damnedest to ratchet up the flight-or-fight response; the song pounds with signature Reznor style in its final two minutes of industrial howling, screeching, and drum machine beats — perfect to run up a set of stairs
to
.
Gin Gillette: "Train To Satanville"
Tags: Halloween , Spooky Songs , Music , What's Up? , Arts & Culture , Trent Reznor , Atticus Ross , Gin Gillette , Nick Cave & the Bad Seeds , Gravediggaz , Vanilla Fudge , For Fun! , Image
Prosecutors in Spokane County have filed felony charges at a higher rate than any other county in the state, according to statistics provided by the
Spokane County Public Defender's Office
.
But does that mean Spokane is any less safe than those other counties?
No, Spokane County Public Defender Tom Krzyminski would argue. Why, then, is Spokane ostensibly the most felonious county in the state?
"It's discretion," Krzyminski told county commissioners earlier this month, indicating that prosecutors are choosing to file felony charges in situations where a lesser charge might be more appropriate.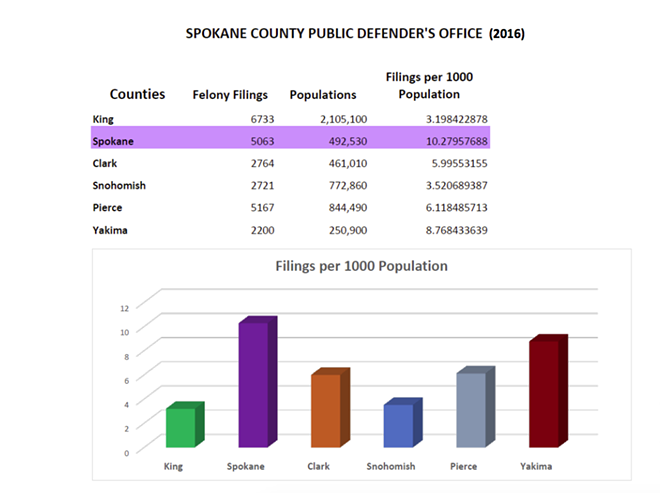 He cites as an example a shoplifting incident "that's really a misdemeanor level, but something happens on the way out, and there's a push. They're grabbed from behind and push back against the clerk. Here, it's charged as a robbery. Does it have to be charged that way?"
Or, he says as another example, what he would consider misdemeanor-level trespassing that's charged
as
a felony burglary.
"So I'd be asking those questions if I was looking at other jurisdictions," Krzyminski says. "Do you feel less safe in those other counties than in Spokane?"
Tags: Spokane County , felony , Spokane County Public Defender , Spokane County Prosecutor , Tom Krzyminski , Larry Haskell , County Board of Commissioners , Ozzie Knezovich , budget , criminal justice , News , Image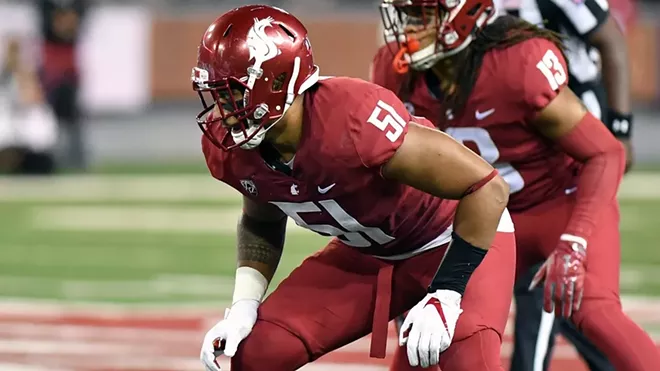 The weekend's sports action was kind of insane, thanks to unexpected blowouts (ouch, Cougs!), enthralling last-minute comebacks (we see you, Seahawks), and World Series games that make a mockery of the idea that baseball is boring. Here's what you need to know to chat around the water cooler at work today.

TROUBLE IN PULLMAN
Losing to Arizona in Tucson is anything but embarrassing. The Wildcats are one of the hottest teams in the Pac-12 — if not the entire country — right now, thanks to quarterback Khalil Tate's emergence as an offensive force. So Washington State fans shouldn't be too forlorn over
going down 58-37 on Saturday night
as Tate ran for 158 yards and a touchdown, and threw for 275 yards and two more scores.
What Coug fans should be worried about is how the win went down. The defense gave up 585 yards and gave them up in big chunks; the Cougs lost despite dominating the time of possession and gaining 646 yards themselves. And WSU coach Mike Leach, the alleged genius, introduced a quarterback controversy when he inserted backup quarterback Tyler Hilinski, who rallied the team, throwing for more than 500 yards and three touchdowns, and ran for two more scores, but also chucked four interceptions, including a vital pick-six in the fourth quarter that essentially ended any hopes for a win. The
loss dropped the Cougs to No. 25
in the new AP poll.
Tags: Idaho , Vandals , Seahawks , Washington State , WSU , Cougars , Whitworth , Pirates , Texans , Russell Wilson , Deshaun Watson , World Series , Dodgers , Astros , Monday Morning Placekicker , Sports , Image
Next week you can hear a free presentation by Michael Shermer, who
we turned to for expert explanations on why people want to believe in ghosts for this week's cover story.
On Thursday, Nov. 9, Shermer will be in town promoting his book
The Believing Brain: From Ghosts and Gods to Politics and Conspiracies—How We Construct Beliefs and Reinforce Them as Truths.
From our cover story "
Is Someone There?
":
The feeling that we get — that something else is in the room with us — has a lot to do with our biology, and the way our brains work, explains Michael Shermer, creator of Skeptic magazine and the author of several books on how our brains want to believe in things like ghosts. It's beneficial for our brains to make patterns out of the things we see and hear, not only for communication with other people, but for survival.

"The problem is this: that the mind is designed to find patterns whether they're there or not," Shermer says. "I call that patternicity: the need to find patterns in random noise."
You can learn all about Shermer's theory of pattern-making and more that Thursday night.
After
giving an exclusive presentation to Eastern Washington University students
, faculty and staff in the afternoon, Shermer will take to the Martin Woldson Theater at the Fox that night for a free lecture that's open to the public.
Doors open at 6:15 pm, and the lecture is set to start at 7. Shermer will stick around for a book signing, sponsored by Auntie's Bookstore.

Michael Shermer lecture and book signing • Thu, Nov. 9 at 7 pm; doors at 6:15 • Free • Martin Woldson Theater at the Fox • 1001 W. Sprague Ave.
Tags: Michael Shermer , ghosts , belief , god , religion , politics , conspiracies , lecture , book signing , Fox Theater , Auntie's Bookstore , Arts & Culture , What's Up? , Image
Tags: news , headlines , Morning Briefing , morning headlines , Whitefish , WSU , shot , Manafort , homeless , shelter , drug tests , Image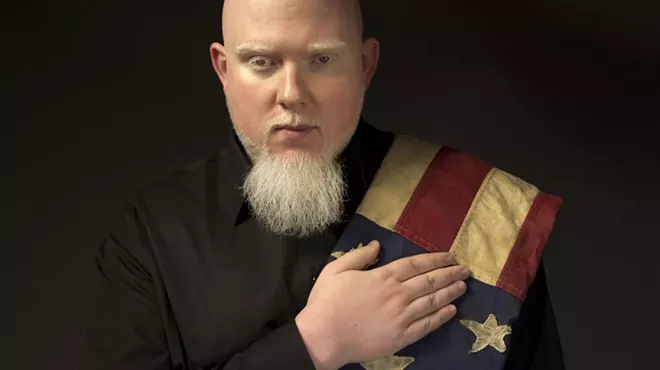 Halloween is obviously one of the week's biggest nights, but there's plenty going on all week long, as you can see in our
event listings
and
Staff Picks
. Here are some highlights of the week ahead:
Monday, Oct. 30
WORDS | Head over to Spark Central for a book release and performance called
Tarot Time
, a collection of community writers sharing stories inspired by the Major Arcana Tarot set.
Tuesday, Oct. 31
LIVE MUSIC | It's Halloween night, duh, so after you either go trick-or-treating or stay home and hand out candy, get out on the town for one of the many music events happening.
The Big Dipper hosts East L.A. rockers
Thee Commons
, a trio blending punk rock and traditional Mexican music.
Tags: What's Up? , Image , Video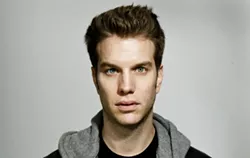 T
he pleasures of dropping babies
. The ranking of murder-suicides as the
best
kinds of suicide. A horse that's considered a hero by the family thanks to it throwing a particularly annoying cousin off its back, resulting in a broken neck.
Yes, comedian
Anthony Jeselnik
pushes the boundaries of what some would consider "good taste," but he's so good at building his jokes and leading the audience to ever-more-extreme conclusions that his appeal is undeniable — at least for some of us.
At Jeselnik's early show Friday night, one of five gigs he's doing at Spokane Comedy Club over the weekend, he filled the sold-out room with laughs, hoots and one particularly disturbing interruption from what I assume was some drunk guy who yelled, inexplicably and in the middle of a story about a fan letter from a white supremacist, "Drop the mic!"
What the audience member meant, I have no idea, and Jeselnik didn't hear him, so the comedian said, "I'll give you one chance to repeat yourself, but I wouldn't recommend it." The audience roared its approval as Jeselnik swiftly moved on.
Tags: Arts & Culture , Image