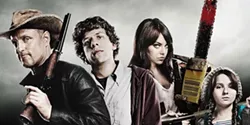 Calling all fans of blood, guts
and
beer: You won't want to miss our next Suds & Cinema event.
We'll be screening the 2009 horror-comedy hit
Zombieland
at the Garland Theater on Thursday, Oct. 12 at 7:30 pm, with Young Buck Brewing selling its delicious beer in the lobby starting at 6:30. Brain Freeze Creamery will have free (that's right —
free
) ice cream on hand, and our friends at Horizon Credit Union will provide free popcorn while supplies last.
And if that isn't enough of a reason to show up, you can also win some money. We'll be hosting a zombie costume contest, and whoever boasts the most gruesome and creative get-up can win a $100 Amazon gift card provided by Horizon, as well as a basket of memorabilia from the locally shot Syfy series
Z Nation
. There will also be some real, honest-to-god zombies on hand from the upcoming Zombie Hike in Riverside State Park, and we hear they're down for posing for a selfie or two (those could also win you an Amazon gift card).
Zombieland
takes place in the aftermath of an epidemic that has brought the dead back to shuffling, flesh-eating life, and it follows a band of survivors traveling cross-country searching for their families and some Twinkies. The cast is fully loaded — Oscar nominees Jesse Eisenberg, Woody Harrelson and Abigail Breslin and Oscar winner Emma Stone — and includes one of the funniest cameos in contemporary cinema (if you somehow don't know about it, we won't spoil it for you).
Doors at the Garland will open at 6:30 pm, and admission is $5; advance tickets are now available at the theater box office.
Zombieland
is rated R, but the event is all-ages.