As I compile my upcoming list of the year's best films, I'm realizing there was actually a lot to like in the towering inferno that was 2017.
But there was also plenty to hate, and just to get these experiences out of my system, here are a handful of the dumbest, lamest, most torturous watches of the last 12 months.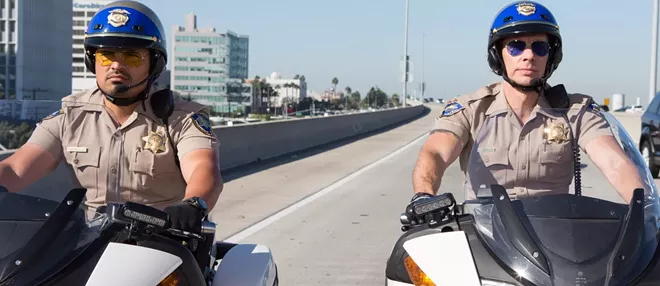 THE WORST TREND OF THE YEAR
The R-Rated Comedy
With the exception of the very funny
Girls Trip
, which was a sleeper hit this summer, every crude, raunchy, adults-only comedy of 2017 was dire. Dreary. Lame. ABYSMAL.
The absolute worst of the bunch — not just of this category, but of all movies — was
CHiPs
, a toxic adaptation of the '70s cop show. Its screenplay is credited to director/star Dax Shepard, but it could just as easily have been written by a 15-year-old boy who learned the few things he knows about swearing and sex from a 4chan board. It possesses not a single redeeming virtue.
More horrible R-rated comedies:
Baywatch
, another bottom-of-the-barrel TV adaptation that couldn't even figure out what was funny about the old show in the first place.
Fist Fight
, a zero-joke, role-reversed take on
Three O'Clock High
, with Charlie Day and Ice Cube at their most annoying.
The House
, a Will Ferrell-Amy Poehler vehicle so sloppy and haphazard that I'm not convinced it was ever finished (and don't let Chance the Rapper
convince you otherwise
).
Rough Night
, one of the laziest, most sluggish comedies ever made about drugs, corpses, swingers and mobsters.
Snatched
, which brought Goldie Hawn back to the screen and saddled her with lame slapstick.
(And while I didn't see the currently-playing
Father Figures
, starring Owen Wilson and Ed Helms, I'll assume it belongs here, too.)