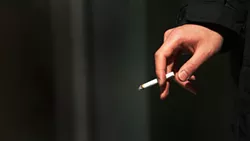 ON INLANDER.COM
A way out
One 17-year-old explains how she spiraled into, and
is fighting against
, meth addiction.
The other craft brew
Spokane's
craft coffee brewing scene
is on the map.
14 voices
Local women share their own
#MeToo stories
and reflect on the watershed movement.
IN OTHER NEWS

Smoke up

Should we raise the legal cigarette smoking age to 21? (
Spokesman-Review)


Another one

Def Jam founder Russell Simmons deleted his Twitter account after multiple women accused him of rape. Simmons has denied the allegations. (
Billboard
)
"Mini Madoff"

Frederick Darren Berg, the Washington state man who ran a Ponzi scheme that defrauded hundreds of people out of more than $100 million, pulled off a
Shawshank Redemption
-type escape from a minimum security prison in California. (
Seattle Times
)