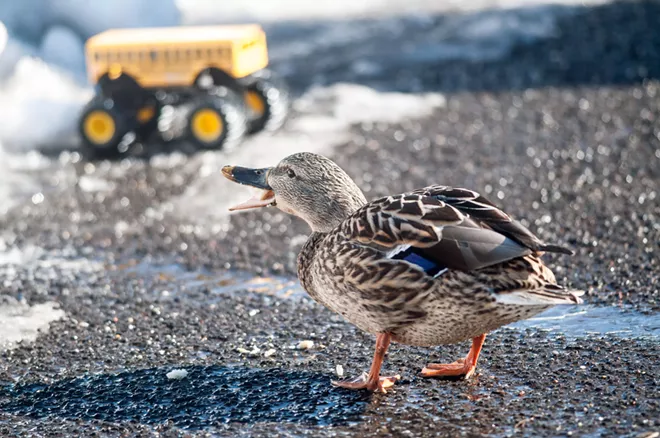 Duck, duck, duck, duck, duck, duck, duck, duck, duck, duck, duck, duck, duck, duck, duck, duck, duck, duck, duck, duck, duck, duck, duck, duck, duck, duck, duck, duck, goose

Who put 28 ducks in garbage bags near Aberdeen, Washington? The Washington Department of Fish and Wildlife
wants to know
. (
Spokesman-Review
)

What a $4 million coaching salary gets you

WSU's Holiday Bowl ends with a humiliating
loss
to Michigan State, 42 to 17. (
Spokesman-Review
)

Missed calls
Extremely rural Shoshone county lost 911 service when its
power went out
. (KREM)

Trickling down

The INB regional bank is offering Christmas bonuses thanks to the GOP's
massive corporate tax cut
. (KXLY)

Nobody respects a leader who's accountable to the law

In an interview with the
New York Times
, Trump laments that the investigation into his possible collusion with Russia is making the United States look "
very bad
." (
New York Times
)

Problems with the subway

Former
Seattle Times
reporter Brian Rosenthal continues his incredible work showing the corruption, mismanagement
and
underinvestments that have made the New York subways
such a disaster
. (
New York Times
)
Problems with the Subway
The $5 footlong is such an amazing deal, it may hurt a lot of Subway
franchisees
. (
Washington Post
)
Dave's world
Dave Barry is here with his annual year in review to make us all feel better about 2017, the year we will remember most for being
absolutely amazing
for Taylor Swift.