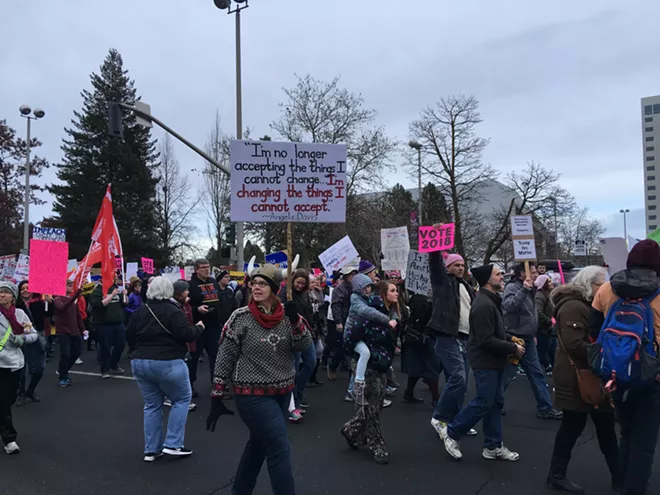 ON INLANDER.COM

CMR's Women's March Message
Republican Rep. Cathy McMorris Rodgers wasn't able to attend Sunday's Spokane Women's Persistence March (where there were more than a few signs and shouts calling for her to be ousted from office and supporting Lisa Brown, her Democratic opponent) but she did prepare a video statement that could have played at the rally in the Convention Center if organizers had allowed it (they didn't).
Here's what she had to say
.
Moderate insight
Hear
the thinking that got Eric Agnew inspired to run
as a moderate in the race against CMR, though he
just announced he's suspending his campaign
.
Thoughts of food
Already hungry and it's still just Monday morning? Here's some
recent food news
, including a new Indaba location in Kendall Yards, first dibs to try food that'll be featured at Inlander Restaurant Week, openings, closings and more.
IN OTHER NEWS

#Persistence
A year after women took to the streets by the thousand for a Women's March coinciding with the inauguration of Donald Trump, thousands once more took to downtown Spokane for the Women's #Persistence March and Rally. Roughly
6,000 marched, about 2,000 fewer than last year
but still more than anticipated after local organization for the march was
The Spokesman-Review
reports.
Look for our photos from the march
here
and in this week's issue of the
Inlander
.
Down for the count
Oh yeah, the U.S. government shut down this weekend after Congress failed to reach a compromise Friday night.
By Sunday they still hadn't passed a fix
, which means many federal employees are on furlough today, but the Senate is
expected to vote on a measure to reopen the government this morning
, according to the
New York Times.
Not a signature you want to forge
A
Spokane judge's signature was forged on a court order
in a case involving a South Hill home and garnished wages, the
Spokesman-Review
reports, but unlike a school permission slip, this case carries criminal consequences.
Helmets at Ice Ribbon after accident
Free helmets will be available at Spokane's Ice Ribbon
after a
woman was critically injured Friday night
(the city first announced she had died, then later corrected that to say she was still in the hospital). (KREM, KXLY)
Bill would ease jailing for suspended license
Proposed
legislation in Olympia would lessen the penalties for driving with a license suspended for unpaid traffic tickets
or not showing up to court hearings, the most common reason people are charged with a crime in Washington state,
The Seattle Times
reports.