ON INLANDER.COM
Knock down drag out
On the cover this week: We
compiled some of the biggest and weirdest
fights, riots, scuffles and brew-ha-has in the Inland Northwest.
Shattered ceilings
Paulette Jordan would be
the first woman elected governor of Idaho
, the first Democrat to hold the office since 1995 and the first Native American governor in the country. But that's not why she's running.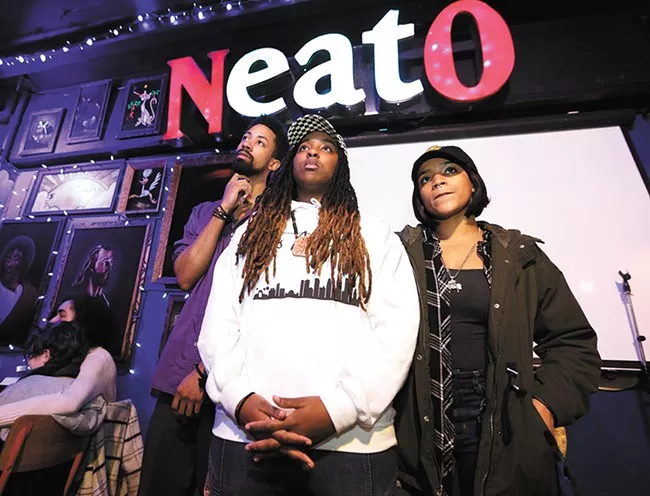 Speak up
A new
grassroots spoken-word poetry movement
aims to give voice to the voiceless in Spokane.
IN OTHER NEWS

'If I don't make it, I love you and I appreciate everything you did for me'
A student at Marjory Stoneman Douglas High School texted that to her mother as a man fired rounds into her classmates and teachers. (
New York Times
)
A football coach reportedly jumped in front of the bullets to save students. He later died of gunshot wounds. (
Miami Herald
)
A total of 17 people are dead, other are wounded, and police have arrested the suspected gunman, a 19-year-old former student at the school, Nikolas Cruz. He is charged with 17 counts of murder and will appear in court later today. (
Sun Sentinel
)
Cruz legally purchased a .223-caliber rifle in February 2017 after clearing an FBI background check and had no criminal history. A law enforcement official described the rifle as a "civilian version of a military rifle." (
Miami Herald
)
Students were not satisfied with President Donald Trump's response to the massacre:
With so many of these tragedies, the stories of victims and families quickly fade with the headlines. Last year, the
Inlander
talked with
the mother of Sam Strahan
, who was killed by a student inside Freeman High School.
Grandma called the cops
An 18-year-old Everett student was arrested after his grandmother called police and alerted them to the teen's plans to "walk into that class and blow all those [expletives] away," the
Seattle Times
reports. The boy's grandmother found his plans written in a journal. The teen was arrested but has not yet been formally charged.
Death to death

The Washington state Senate voted yesterday to abolish the death penalty. (
Spokesman-Review
)
Can I see your ID?
A Seattle-based attorney for the Immigration and Customs Enforcement is charged with stealing the identities of immigrants while they waited for their cases to be processed. (
BuzzFeed
)
Catch up to Cathy
A Democratic poll indicates that Lisa Brown is closing the gap with her opponent, Rep. Cathy McMorris Rodgers. (
Spokesman-Review
)