ON INLANDER.COM

The jury believed her

Former Spokane Police
Sgt. Gordon Ennis was found guilty of raping female officer
at a 2015 house party.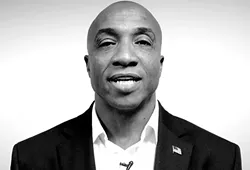 Community leader denies accusations of a violent past
Former NAACP president, City Council hopeful and outspoken community leader
Phil Tyler has been accused by his three ex-wives
of domestic abuse. He denies it.
The Spokane chapter of the National Organization of Women have now called on Spokane Mayor David Condon, Sheriff Ozzie Knezovich, Police Chief Craig Meidl and Fire Chief Brian Schaeffer, who all appeared in a video with Tyler asking men
to stand up against sexual violence
, to comment publicly on domestic violence.
NOW released a statement on Facebook that says, in part, "There is a strong overtone of victim blaming and gaslighting in Tyler's responses. There is no way for the community to move forward until there is an acknowledgement of his role in these incidents. We cannot begin to heal survivors of domestic violence, or repair the trust of a community until abusers accept responsibility instead of continued repudiation. Mr. Tyler, we call on you to take accountability for your actions. There is room for redemption, but you must take the first step."
Simply rock 'n roll
One of
Spokane's newest rock bands
(feat. Garrett Zanol, formerly of Blackwater Prophet) is keeping it simple with heavy duty, uncomplicated riffs reminiscent of Black Sabbath and Led Zeppelin. Their first album dropped last August. A second is in the works. They're playing the Red Room Lounge this Saturday.
IN OTHER NEWS
'This is gonna affect more than just your life'
The trailer for a new Netflix documentary, 'The Rachel Divide,' was released Wednesday.
It shows the former Spokane NAACP president, who is white but masqueraded as black, and her son grappling with the fallout from her public statements.
"I resent some of her choices, and I resent some of the words she's spoken in interviews," her son says in the trailer.
"The more I hear about it, the more I talk to people about it, it just drains me."
Locally, a black Spokane artist has clashed with the downtown library for including Dolezal's work in an annual exhibition benefitting local charities. (
Spokesman-Review
)
Remember women

Today is International Women's Day, and this morning, the
New York Times
is rectifying the overwhelmingly male and mostly white presence in its obituary writing. A new project, Overlooked, features profiles of influential women starting from the early 1800s. (
New York Times
)
Adult film star sues the president
Trump's lawyer has obtained a temporary restraining order that prevents adult film actress, Stormy Daniels, from speaking about the $130,000 she was paid to keep quit about an affair she had with Trump in 2006. Daniels turned around and sued the president, saying the "hush agreement" is invalid. (
Washington Post
)