Just when you thought there couldn't
possibly
be another new bar or restaurant (kidding, we're all excited to be aboard the local food and dining hype train!) in the Spokane area to check out, here's a list of some forthcoming food and drink projects set to debut later this year, some sooner than later.

RIDPATH BRASSERIE AND GIN BAR
The new restaurant and bar inside the historic, former Ridpath Hotel from Spokane restaurateurs Jeremy and Kate Hansen is coming along, but is more likely to open in June or even later
due to construction and other delays
. Ridpath Brasserie will serve a French-inspired menu and its entire menu, including breakfast, lunch and dinner, is set to be available to order from anytime during its planned 20-hour operating schedule, from 7 am to 3 am.
In the meantime, chef Jeremy Hansen has also shifted focus to revamp the menu at his flagship downtown restaurant,
Santé Restaurant & Charcuterie
and the Butcher Bar located inside the restaurant.
Here's a few other projects coming up that we're working on learning more about: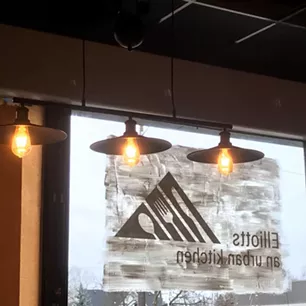 ELLIOTTS, AN URBAN KITCHEN
Construction at a space along the North Monroe corridor, at 2209 N. Monroe (the former home of the vintage and antique store 1889 Salvage Co.), has been underway for several weeks now.
Elliotts, an urban kitchen
, is slated to open sometime later this spring, and hopefully won't be too affected by the upcoming road construction project on Monroe starting in April. According to a recent thread on the restaurant's Facebook page, Elliotts will serve contemporary American cuisine made from local, fresh and seasonal ingredients.
HERITAGE BAR & KITCHEN

We know a little so far about this project in a multitenant downtown building at 122 S. Monroe. Owned by two locals, Gabe Wood and Alex King, with 20 years of combined restaurant industry experience, Heritage will pay homage to local places and flavors on its menu and in its decor. The restaurant will serve "pub food done right" and is taking over a space formerly occupied by Texas True Barbecue, which is next door to
Whistle Punk Brewing
. Stay updated on Heritage's progress toward opening
on Facebook
. Owners say the restaurant is currently slated for a May debut.
BERSERK BAR
Located at 125 S. Stevens, just south of the Ridpath and north of the downtown train viaduct,
Berserk
is set to open later this spring in a cool, old, multistory brick building that's mainly been used as a warehouse of late. Appearing to have a quirky theme inspired by the likes of David Lynch, Stanley Kubrick and Klaus Nomi, Berserk is operated by James Hunt and Lon McRae.
As always, stay tuned for more news on this endeavor, among the others listed here.
IN THIS WEEK'S ISSUE

This weekend is St. Patrick's Day, so we rounded up some
Inlander
staffers'
favorite Reuben sandwiches
found around the region. Though not exactly
from
the Emerald Isle, Reubens have an interesting origin, melding Irish American and Jewish flavors and tradition.
We also share the story behind a new sushi restaurant in Coeur d'Alene;
MoMo
opened earlier this year in the former Bonsai Bistro spot across from the Coeur d'Alene Resort.
Readers can learn more about exacting lasting change in the vast industrial and economical system that feeds us all at an upcoming event with Seattle-based activist and author Laura Titzer. She's stopping in Spokane next week (March 22) for a reading and discussion of her new book,
No Table Too Small
. Read our interview with her
here
.
A version of this information originally appeared in our weekly Entrée food newsletter; sign up to get it delivered directly to your inbox here. Find the previous edition of the Entrée blog here.