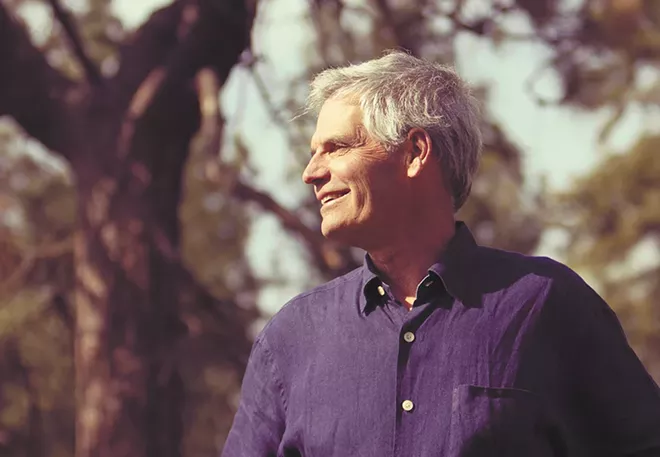 Between 1801 and 1812,
Northwest explorer David Thompson
of Canadian fame established two trade routes across the Rocky Mountains and surveyed the 1,250-mile course of the Columbia River. Using new research, Spokane author and Northwest historian Jack Nisbet explains how Thompson experienced "the full sweep of the human and natural history etched across the Columbia drainage."
Nisbet will discuss Thompson and the boats of the indigenous peoples used on Lake Pend Oreille and Priest River in the early 1800s for an event titled "Canoes Along the River." The discussion is free and open to the public at Priest River's Historic Beardmore Building at 6:30 pm on Saturday, March 31.
As fur agent David Thompson traveled the waterways of the Inland Northwest in the early 1800s, he saw several different styles of vessels. Thompson admired the bark and dugout canoes of the Kootenai and Salish people who guided him, learned how to make use of local materials, and eventually constructed a series of cedar plank canoes to move his goods and furs. In this slide presentation, author Jack Nisbet will combine period journals and artwork with replica canoe craft to try and figure out what was floating on the river.
Nisbet wrote a book detailing Thompson's journeys titled
The Mapmaker's Eye: David Thompson on the Columbia Plateau
. Though Nisbet is widely known in Canada, he is relatively unknown in the U.S., despite having informed some of the travels of the Lewis and Clark Expedition.
"There's so much to explore right here," Nisbet told the
Inlander
in 2015.
Per
Nisbet's website
:
"Since 1994, Nisbet has worked extensively on Northwest fur agent and geographer David Thompson, participating in canoe brigades, presentations, four documentary films and a major museum exhibit.
Some of Nisbet's other books include titles such as:
Visible Bones: Journeys through Time in the Columbia River Country
(2003),
The Collector: David Douglas and the Natural History of the Northwest
(2009) and
Ancient Places – People and Landscape in the Emerging Northwest
(2016).
The event is sponsored by the
Friends of Scotchman Peaks Wilderness
.
Read more about Nisbet in this
Inlander article
.