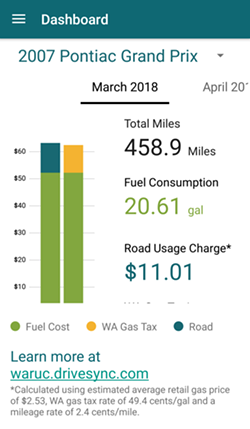 Each day, Karen Gemmell drives 12 miles to her job as a clerk in the Cheney Public Works Department, then drives 12 miles home.
Most days, she's a very safe driver, and she's not just saying that: She can prove it. She recently installed a device to track her mileage and driving habits as part of a Washington state pilot project exploring alternative ways to pay for the upkeep of state roads.
With the device Gemmell chose to test, which is not GPS enabled, she gets a score every trip based on her acceleration, whether she goes over the speed limit, how she brakes and how she takes corners. It's always 100 percent.
Always, that is, until she got sick.
Her scores dropped immediately when she was sick enough to need to stay home from work.
"I was very smug about my 100 percents until I got sick and saw that I was getting 81 percent," Gemmell says.
According to a phone app connected to her device, she was worse at braking and taking corners when she had a bad cold. When she felt better, they popped back up to 100.
"It really made me stop and think about it. I'm not just responsible for myself inside that car, I'm responsible for every single person I come across," she says. "Yeah, I don't text and drive, I don't talk on the phone and drive, but it never occurred to me to be concerned about my skills when I'm sick."
Her anecdotal findings aren't unique: Studies have shown that people really are worse at driving when they're sick, with one British insurance company saying the sick drivers they tested in a study
were as bad at driving as someone who'd had four stiff drinks
.
Another 2012 study out of Cardiff University had people who were sick do a driving simulation, then measured their results when they were healthy and compared them with a control group. When people were sick, they were less likely to detect collisions and were slower to respond to unexpected events, according to the
study by researchers Andrew Paul Smith and Samantha Jamson
.
PILOT PROJECT
Gemmell made her discovery because she's participating in Washington's Road Usage Charge Pilot Project.
As cars are getting more efficient, state lawmakers are concerned the 49.4 cent-per-gallon state gas tax won't keep pace with costs to repair and build roads and bridges in the future. So they've tasked the Washington State Transportation Commission with finding other ways to charge people for using the road.
Through the pilot, 2,000 drivers like Gemmell volunteered to report their mileage in a variety of ways so the state could see what a pay-per-mile system might look like. The
Inlander
reported on that
effort and the options being tested
in last week's issue.
Since starting out in the pilot in early March, Gemmell has driven just about 460 miles. Under the road usage charge of 2.4 cents per mile, which is based on what the average driver pays under the gas tax currently, she would pay $11.01 to the state, slightly more than the $10.18 she actually paid through the gas tax.
Gemmell says she chose the automatic device without GPS because she was concerned about privacy.
Other reporting options include a similar device that does have GPS in order to make sure people wouldn't be charged for out-of-state miles driven, as well as a variety of ways to take photos of odometer readings or report them in person.
The pilot is scheduled to wrap up early next year, with the results going to the Washington State Legislature by 2020.