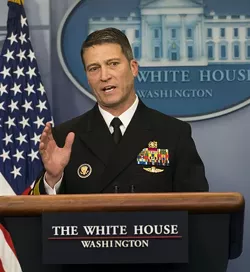 ON INLANDER.COM
NEWS:
Trump's pick to lead the Veterans Affairs Department, Dr. Robby Jackson, has an allegedly shakey background.
His confirmation hearing, scheduled for today,
has been postponed.
CULTURE:
Local couple Michael Rideout and Kayla Cartelli
upcycle discarded fire hoses into can holders, flags and other items
. They both work full-time jobs in addition to spending 40 hours a week working for their business, American Fire Co.
NEWS:
National Perscription Drug Take Back Day is Saturday
. From 10 am to 2 pm, you can take any expired, unused or unwanted prescription medication to disposal sites throughout Eastern Washington.
IN OTHER NEWS

Judge thwarts Trump
A federal judge in Spokane issued an injunction that prevents the Trump administration from
cutting funds to Planned Parenthood that would go to a teen pregnancy program
in the Western states, the
Spokesman-Review
reports. "The court determines that the public interest weighs in favor of (Planned Parenthood), as it would prevent harm to the community … and prevent loss of data regarding the effectiveness of teen pregnancy prevention," Judge Thomas Rice wrote in his decision. (
Spokesman-Review
)
Judge thwarts Trump AGAIN
And another one. This time, a federal judge in D.C.
ruled against the president's legal rationale for ending DACA
, which provides individuals who were illegally brought to the U.S. as children relief from deportation. The judge gave the Trump administration 90 days to come up with a better rationale for ending the program. (Vox)
Getting handsy
What is with President Donald Trump and French President Emmanuel Macron? Despite their disagreements,
the two leaders seem to be in love
. (
The New York Times
)
California gun deaths decline
California gun deaths
declined between 2000 and 2015
, according to a recent study on gun violence. The decline is likely due to the decline in gang violence in the state, especially in Los Angeles, the study says. (
Associated Press
)