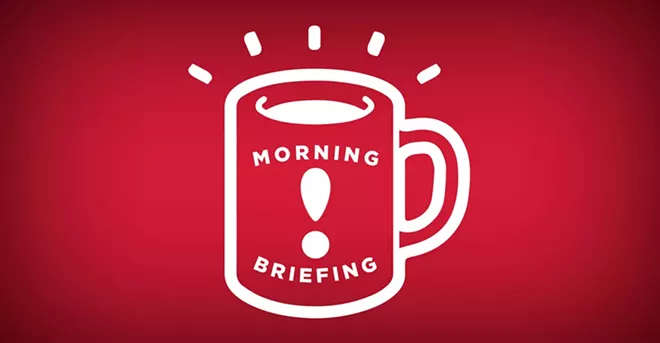 ON INLANDER.COM
NEWS: An white supremacist sympathizer and known alt-right demonstrator, James Allsup, was elected to a Whitman County GOP position. It's not a very glamorous and he ran unopposed. Despite some backlash, he seems determined to stay where he's at.
THEATER: The Democratic Socialists of America (DSA) are hosting a benefit reception for Stage Left's production of God's Country on Thursday (tomorrow). The play is (also) about white supremacists. The proceeds will go to benefit the Spokane DSA and an undocumented immigrant fund, among others.
NATION: Harvey Weinstein pleaded not guilty yesterday to sexual assault charges. The 66-year-old has denied any wrongdoing with the dozens of women who have accused him of sexual misconduct.
IN OTHER NEWS
The Nazi next door
The new Nazis "come in suits and ties, college boys with at least occasional good manners, wearing pocket squares and high-and-tights," writes Shawn Vestal in a column, "Modern-day Nazis Hide Swastikas Under Sheep's Clothing to Sneak Into GOP flock."
Following up on the news about Allsup, he warns that white identity extremists are conflating the conservative brand in an attempt to make their bigotry appear "defensible," even normal. In fact, Allsup says that himself. But I guess this isn't really news. It's just gross. (Spokesman-Review)
Unprovoked police beating in Mesa
A video was recently released of a group of police officers beating an unarmed black man in Mesa, Arizona. An apartment surveillance video shows the officers surrounding him and, without physical provocation, begin punching him. He was arrested on suspicion of disorderly conduct and hindering prosecution. The officers are on administrative leave. (Associated Press)
Supremely disqualified
Two disbarred Washington attorneys with hopes of becoming Supreme Court justices have been kicked off the November ballot from running. Turns out, being stripped of your law license disqualifies you for the Supreme Court. Who'da thunk it? (Seattle Times)
California key
Democrats spent millions targeting about a half-dozen Republican-held House seats in California. They are competing in all 53 districts in the state. With complete control of California, it could give them the majority they need in Congress. (Washington Post)