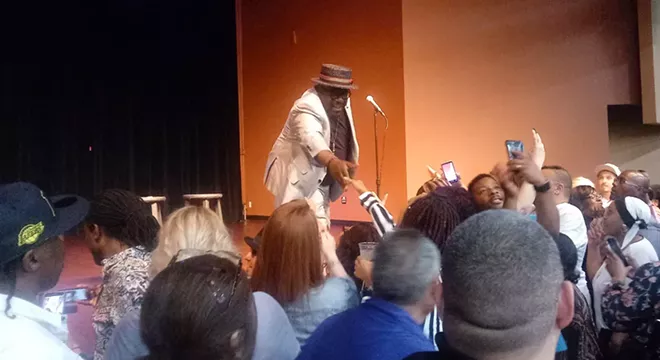 WORLEY, Idaho — When you go to a
Cedric The Entertainer
standup show, you expect to get a good hour of laughs thanks to the man's talent and 30-plus years of experience on comedy stages large and small.
What I
didn't
expect going to see the man in North Idaho was the most racially diverse audience I've seen for
any
kind of concert in my almost-four-years living in the Inland Northwest, a couple thousand African-American, Native American and white people joining together to laugh at everything from Cedric and his openers' silly imitations to their pointed political and racial commentary.
The great vibe in the room, and the comedians' skill onstage made for an excellent show at Coeur d'Alene Casino. It was my first time seeing the event space in Worley, and I was pleasantly surprised with the set-up. A large stage with video screens on either side made every seat in the room feel like a good one.
Of course, that wouldn't have mattered if the show wasn't good, and it was far more than that. Cedric and his two openers, Malik S and Sean Larkins, all made jokes about not knowing where they were, or more pointedly, they all said some variation of "What the f—- am I doing in Idaho?" But they also all followed up at their pleasant surprise at how diverse the audience was.
Opener and the night's emcee, Malik S, actually went much further than that, getting into a long and pretty hilarious discussion with some audience members about whether "Native American" or "Indian" was more appropriate for him to use, and noting how many of the black men in the audience appeared to have white wives or girlfriends: "Do they just give you one when you move here, fellas?" Both Malik S and Larkin's sets were met with loud cheers from the audience, and a few groans.
Cedric The Entertainer's set, though, was groan-free as he proved a consummate pro and, not surprisingly, a masterful performer onstage.
His many years in Hollywood inspired a lot of his jokes, whether talking about the "Kardashian curse" ("Man, they got Kanye"), defending buddy Steve Harvey's Miss Universe faux pas or having paparazzi mistake him for Cee-Lo Green.
The #MeToo movement inspired some of his best jokes of the night, whether talking about getting scared he might get caught up in it despite his having done nothing wrong — "When they got Morgan Freeman, I was like, 'Oh, shit'" — to a bit where he had to fake not knowing Russell Simmons to TMZ so he wouldn't have to answer for his buddy's transgressions.
Aging, weight-loss (Cedric claimed to wear a chicken patch like some people wear nicotine patches) and prostate exams all generated howls from the audience. And Cedric wasn't afraid to explain some of his progressive politics in a place considered super-conservative, talking about Colin Kaepernick's cause ("He was onto some real shit like police brutality. He ain't about disrespecting the flag") and dismissing Donald Trump as a guy nobody likes, as quick to fire someone as Melania is to slap his hand away at a photo op: "He threw Amarosa out like she was Jazzy Jeff at the first episode of
Fresh Prince
."
The most impressive part of Cedric's show was his talent for physical comedy. He has a great voice, and kicks into song as he pretends to be a preacher, or Mary J. Blige singing a Burger King jingle, even doing some of Blige's signature dance moves. He bemoaned the lack of cool groups in modern music, and the prevalence of solo singers ("What happened to the Temptations or The Spinners? Earth, Wind & Fire had 137 people in there. There's 6,000 people in Parliament-Funkadelic"). His impression of a buddy who wears Shape Ups shoes to the club was great, and his personification of a galloping giraffe was particularly funny, given Cedric's bowling ball-like stature.
At show's end, Cedric stayed onstage to shake hands and take selfies with the North Idaho fans who probably never thought they'd see an
Original King of Comedy
in their neighborhood. And by the smile on Cedric's face, it seemed he probably didn't expect to find those fans in North Idaho, either.