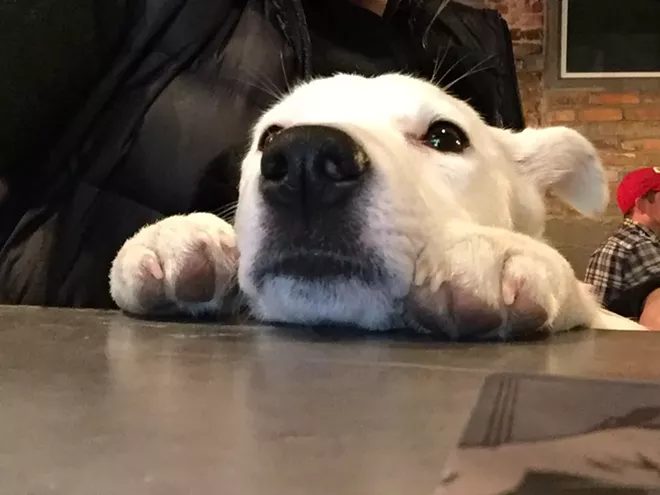 With our first ever Pet Issue on stands now, we thought it would be a great time to share some of our favorite dog-friendly restaurants, breweries and bars. While you can't bring your furry companion inside most places due to standard health codes and such, there's plenty of options for outdoor drinking and dining.
Little Garden Cafe, 2901 W. Northwest Blvd.
This coffee and tea house with a quaint patio is perfect for a summer brunch. Located across the street from Audubon Park, it's also a perfect spot for Otis to not-so-patiently wait for you to finish your meal so you can toss the ball a few times.
Community Pint, 120 E. Sprague Ave.
This beer bar is one of the few places in town that actually allows Lassie to come inside. It's a great spot for both of you to escape the sun and cool off. If you're a pet lover without a dog of your own, there's a good chance you'll be able to get your puppy fix here.
Iron Goat Brewing, 1302 W. Second Ave.
The alley patio at Iron Goat is ideal for spending an evening with old Blue. Take in the urban environment while drinking a pint of local beer. The kitchen serves small plates, pizza and sandwiches and even has beer-inspired treats that are safe for Blue to eat. You can also catch live music on the patio throughout the summer.
Casper Fry, 928 S. Perry St.
If you're looking for a fine dining spot where Buddy can tag along, this South Perry District restaurant will treat you well. Along with their Southern comfort food and craft cocktails, it features a large dog-friendly patio. After your meal, you can both walk across the street to Perry Street Brewing for a few after dinner beers and a nice bowl of water.
The Scoop, 1001 W. 25th Ave.
What better way to end a long day of adventures with Balto than scarfing down some fresh-made ice cream? This South Hill hideaway features cold creations and baked goods, including their famous liege waffles. Relax at an outdoor table or take a walk through the neighborhood with a cone in hand. Go ahead and give him a small taste, he deserves it.