When we asked readers to send us photos of their animal companions for the
Inlander's
first-ever Pet Issue photo contest, we had no idea we'd receive as many as we did — well over 250 in just one week!
In hindsight, though, why should we have expected any less? Ask anyone you know to tell you about their dog/cat/rabbit/lizard/fish/pig/etc. and the outpouring of love for these special animal friends flows freely.
Inlander
readers are no different; you all were more than willing to send us adorable photos and heartwarming stories that each illustrate the palpable joys of the human-animal bond. Picking only three winners to highlight in this year's first-ever Pet Issue was really,
really
hard.
As the issue's editor and creator of this contest, I was truly gleeful each time another submission came through. We received stories of heartrending rescues, loyal best friends and even memorials to companions who've since passed on. The creative pet names I saw were also an absolute favorite. (Shoutouts to Meriwether Lewis, Kylo Rentriever, Noodle Sheets, Baby Godzilla, Lando and many, many more.)
So, to somewhat make up for my and our other contest judges' guilt that we had to make a decision, and to recognize that
all
pets are special in their own ways, we decided to share some of standout submissions from the 2018 #InlanderPets photo contest. Make sure to
meet our three winners
— a deaf rescue dog, a pokey, palm-sized buddy and an adventure cat — in this week's issue.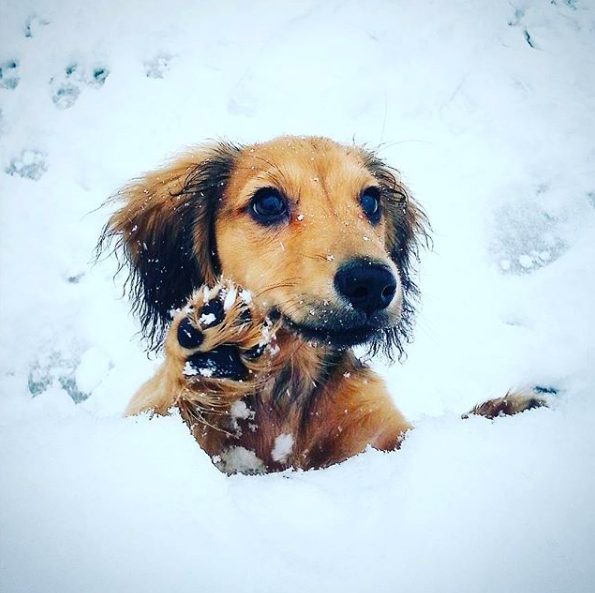 Whiskey, a shaded cream, long-haired dachshund

Owned by Cynthia Schoch of Spokane

"Whiskey deserves to be featured because he is the neighborhood's welcoming committee. He loves every person he sees and wants to meet all of the animals he sees, especially other dogs! He's stubborn and independent, like all dachshunds, but is so sweet and submissive that he goes belly-up to every creature he meets within minutes (begging, of course, for belly rubs), and is so well behaved that he can go for walks off his leash (in safe areas, of course). We have been together since he was a puppy and he is the little love of my life."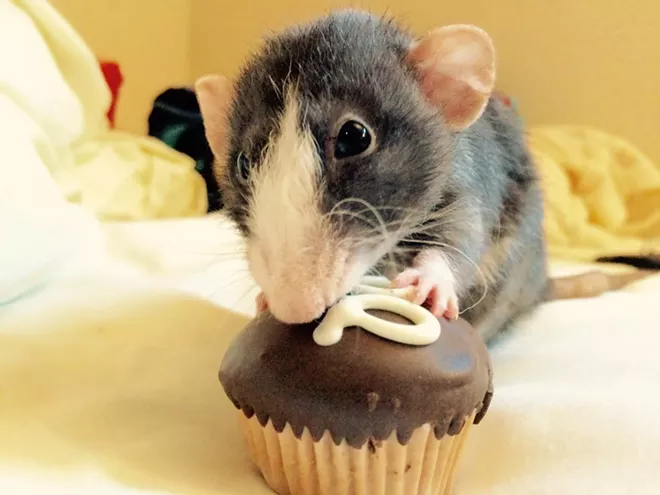 Roo, the rex dumbo rat

Owned by Megan Cuilla, of Spokane

"Rats don't have the best reputation, what with the plague and all, but they make really great pets and are super friendly. 'But their tails.' Okay, okay. Their tails DO take some getting used to, but we humans have weird body parts, too, and our pet rats don't judge us for that."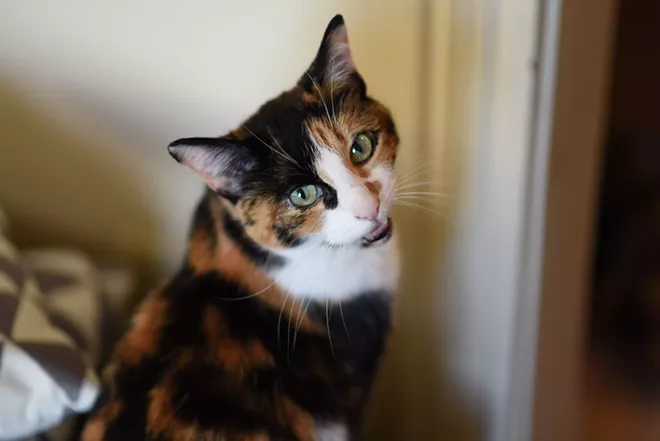 Berger Martina Haeger, a short-haired calico

Owned by Joseph Edwin Haeger and family, of Spokane

"Berger should be in the
Inlander
because she is gorgeous, and as the photo clearly indicates, she has a lot of personality. She's a proud lady and wants things her way and isn't afraid to tell it how it is. In her free time you can find her snuggling up with her family or stealing entire sticks of butter from the kitchen. Sometimes you just have to treat yourself. She fancies herself a hunter, but I've never seen her catch more than a cat nap. She would be an ideal candidate for the
Inlander's
Pet Issue."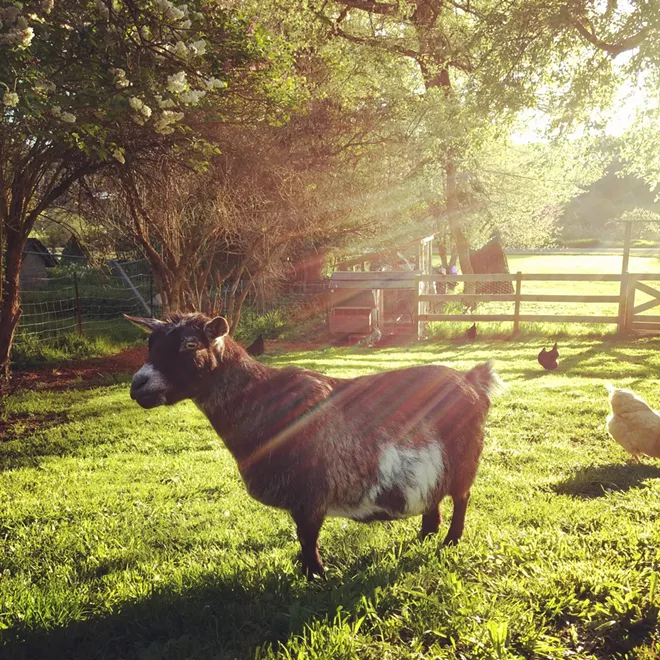 Willow, the Nigerian dwarf goat

Owned by Corinne Morse, of Spokane

"This is Willow the Nigerian dwarf goat. She's about 10 years old and has lived all her days in the Spokane area. She deserves to be featured in the
Inlander
because she has lived a hard life, she has had many babies and was abused early in her life. We have had the pleasure of sharing our farm with her for the last year and could not imagine a sweeter girl. Don't tell the others, but she is my favorite goat."