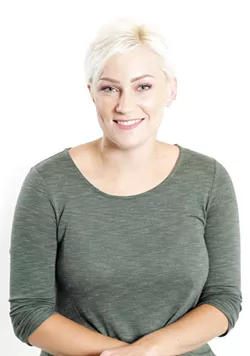 Jessica English already planned and experienced her own wedding, but don't expect her to shut down the Pinterest boards, put away the lookbooks or stop tracking wedding trends anytime soon. Quite the opposite. Jessica owns Apple Brides, a wedding planning website and magazine dedicated to inspiring and informing Inland Northwest brides and grooms, so she always has weddings on the mind. From the "I do's" to the "Oh, don'ts," she's an insider with insight to share.
1. The Hottest Local Wedding Trends
"I am seeing more and more couples make choices that make their weddings personalized and unique, including having family members in fun roles, like grandparents as the flower girl or the ring bearer," says English. "I love seeing couples honoring those that are important to them." English also sees more couples thinking outside the box when it comes to traditional details, like ceremony seating, wedding cakes and even the food. "Food trucks are being incorporated into the receptions, which is so fun!" she says.
2. Uniquely Northwest
English also says that Inland Northwest brides and grooms are all about showcasing the gorgeous area in which we live. "It is not uncommon to give locally made treats as favors, or include lists of the couple's favorite local activities for guests to enjoy," she explains. "Couples truly want their guests to fully experience what they love most about the Inland Northwest, and it makes their wedding more of an experience than just a party."
3. The Myths About Weddings and Wedding Planning
So what about that so-called "wedding markup"? "It is a myth that vendors have a "wedding markup" they charge wedding clients, that cheaper is better (you get what you pay for!) or you don't need a planner or coordinator," English says. "All of those myths are completely false!"