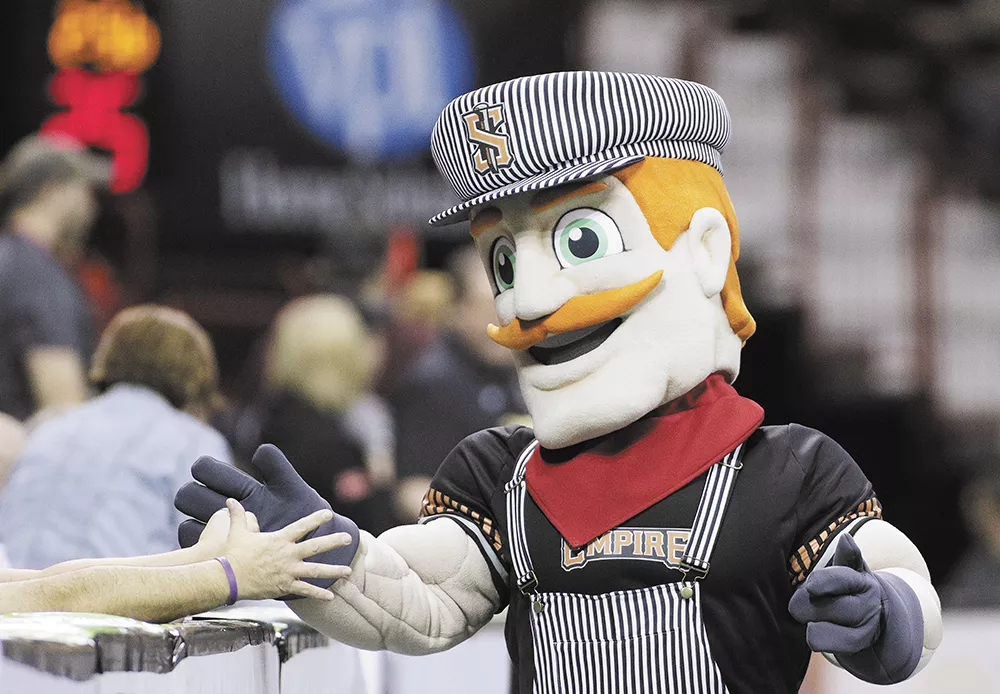 We may not have any major league team in Spokane, but there are plenty of games worth watching. Here's a roundup of teams to cheer for, fun facts to know, and tips to make the most of every game.
Spokane Chiefs
When we're only about 100 miles from Canada as the crow flies, it's no surprise that our northern neighbor's love of hockey has seeped into Spokane. The Chiefs may be a junior team, but their games are as exciting as any NHL contest. There are a whopping 36 home games each season, and with tickets as cheap as $11, you might as well grab a beer and a hot dog while you're at it.
Mascot: Boomer the Bear
Traditions: In the Teddy Bear Toss each December, fans throw thousands of stuffed animals for onto the ice for charity after the Chiefs score their first goal.
Fun fact: In January 2011, the team hosted the first outdoor hockey game in WHL history, against the Kootenay Ice at Avista Stadium.
Watch them: September through March at the Spokane Arena
Gonzaga basketball
Sure, they're a college team, but we couldn't help but include the Zags — they've become an essential part of Spokane sports. The team is always exciting to watch, but the award-winning student section is what makes these games extra special for spectators.
Getting tickets: If you're not a Gonzaga student, faculty/staff member, or a season ticket holder, you can't just walk into the McCarthey Athletic Center and expect to see a game — you'll have to hunt down some tickets. Word on the street: Craigslist is typically cheaper than StubHub for tickets, but they'll still cost a pretty penny. Our other tip: make friends with a Bulldog Club member. Some limited tickets are up for sale during the season, but they're offered to Bulldog Club members first and they sell in a flash.
Traditions: Be sure to arrive well before the game starts so you don't miss the famous Kennel Club rituals, especially the Zombie Nation dance.
Watch them: November through March at McCarthey Athletic Center
Spokane Empire
Formerly known as the Shock, the Empire is Spokane's freshly inaugurated Indoor Football League team. The new name and locomotive logo are a tribute to the Inland Empire's railroad industry. The team plays in the Intense Conference, along with eight other teams from the West and Midwest.
Fun fact: J.J. the Empire Engineer, the team's mascot, is named after Canadian-American James J. Hill, who was known as the original "Empire Builder." He was CEO of the Great Northern Railway, which spanned much of the Pacific Northwest.
Getting tickets: Single tickets are already cheap, but if you're planning on bringing kiddos, pick up a Family Four Pack at Fred Meyer and get four tickets, four sodas and four popcorns for $50.
Watch them: February through June at the Spokane Arena
Spokane Indians
The Indians, in one form or another, have provided Spokanites with good old-fashioned baseball since the 1890s. These days, fans can enjoy a great selection of food and beer options at Avista Stadium, including Longhorn Barbeque and No-Li Happy Hour nights during weekend games.
Famous Former Players: Carlos Beltrán, Sandy Alomar Jr., Chris Davis
Previous Team Names: The Smoke Eaters, the Blue Stockings, the Bunchgrassers
Fun fact: In 2014, the Spokane Indians became the first professional baseball team to feature a Native American language (Salish) on their jerseys.
Watch them: June through September at Avista Stadium
Roller derby
There are three official adult roller derby teams in the area: the Lilac City Roller Girls and the Spokannibals in Spokane, and the Snake Pit Derby Dames in Coeur d'Alene. Head to any bout, and you're in for an hour of fast and fierce rock 'em-sock 'em action and player nicknames as colorful as their outfits.
Insider tip: Don't only watch the "jammers" (the skaters who score the points) during the bout. Keep an eye on the pack to notice the strategic moves that they make, and see how they react to the jammers' location.
Fun fact: Roller Derby was invented in 1935, but experienced its modern revival in the early 2000s as a largely female-organized amateur sport.
Watch them: Year-round at Roller Valley Skate Center and Coeur d'Alene Skate Plaza