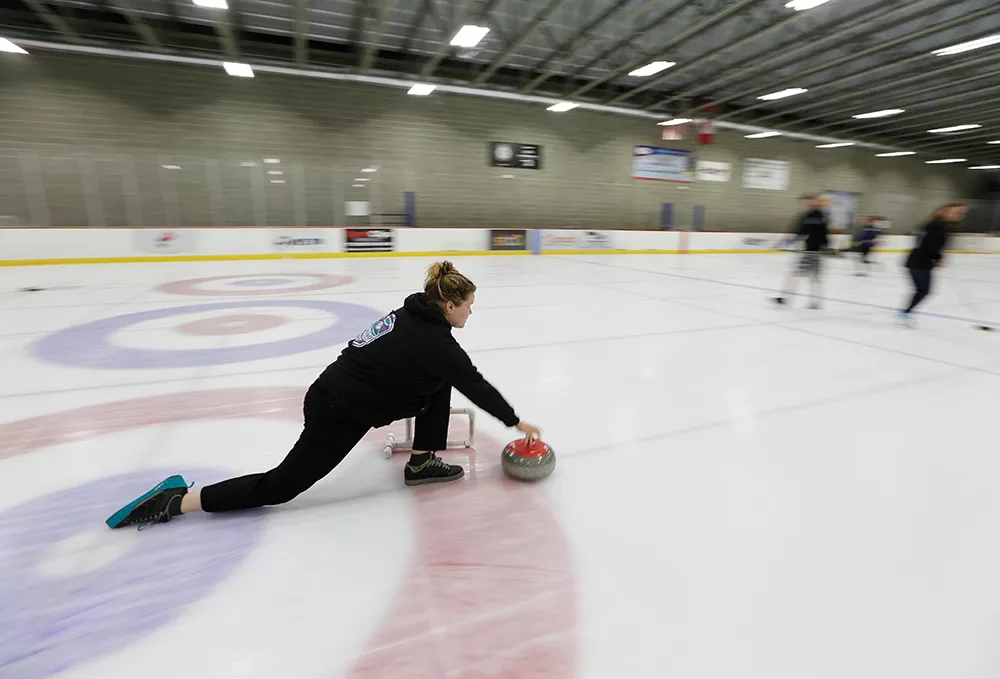 Sliding 42-pound stones across ice to hit a 12-foot target is easier than it sounds and harder than it looks. At the Inland Northwest Curling Club, 30 people sweep the floor and shout instructions as the stones thunder through Frontier Ice Arena.
"It's the funnest sport I've ever played," club member Debbie Wiseman says. "It is a gentleman's sport. Everyone's nice to each other."
Even so, the ice can be mean. You can bypass the target entirely if you slide the curling stone with just a little extra force. Dial it back, and you'll never reach the elusive circle.
Thankfully, curlers have the help of a pair of sweepers who smooth the way ahead of the stone as they scurry to keep up. As they frantically rub with their brooms, they warm the ice and make the path of the stone more slippery. The reduced friction can coax a few more crucial feet out of a throw.
"Some good sweepers can drag a stone 10 to 12 feet," club president Matthew Moore says.
A curling team has four members, all of whom throw stones. All members except the skip also sweep. The skip instructs the sweepers, makes strategic decisions and throws last. The vice-skip takes on these roles when the skip throws and throws third. The lead throws the first two stones of each game, and the second throws the second two stones.
When they aren't tensely watching the growling stones, players chat, laugh and celebrate each others' victories. In curling, teams are expected to call infractions on themselves and teams usually concede when they know they can't win. Curlers are never supposed to cheer an opponent's mistake.
"It's a sport that's for everyone," Vice President Ben Preiss says. "There's an addicting feeling to making a great shot."
The club's next season starts on Sept. 5, 2019. Participation is free for individuals and $500 for a seasonal team membership. The club welcomes beginners. Last spring, more than 120 first-time curlers attended their Learn to Curl session. The next session will happen in the fall. Updates can be found online at inwcurling.com.
If you want to see curling at its best, February 2020 brings the Men's and Women's National Championship to Spokane. Top curling teams from across the nation will compete at Eastern Washington University's recreation center in Cheney Feb. 8-15. The event will help determine who plays on the U.S. international team.
Local curlers hope the event will encourage people to try curling. "We believe it's going to be a primer much like Olympic years for growing the membership," says Matthew Moore.