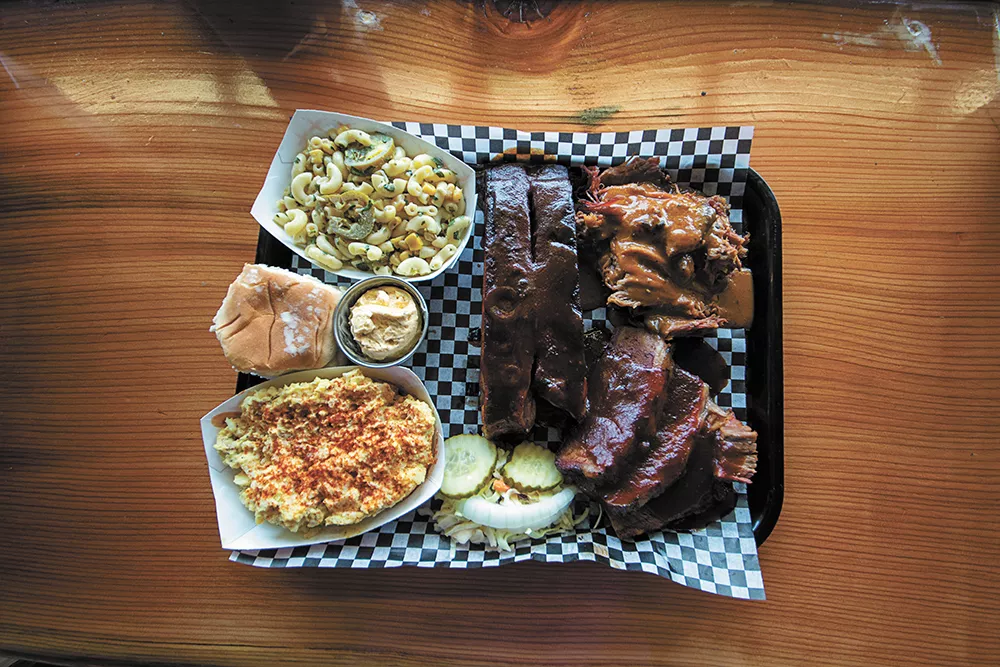 The Inland Northwest is known for a lot of things: Its natural beauty, thriving craft brewery scene, and relatively affordable cost-of-living. But one doesn't think "barbecue" when listing off their favorite attributes of the region. The thing is, you probably should. New and exceptional barbecue joints are popping up around the region, making the Spokane-to-Coeur d'Alene-corridor something of an undiscovered mecca for regional meat lovers.
"Barbecue is a hot trend right now," says 38-year-old Erin Everhart, a partner at Longhorn BBQ. "The area has some really good hidden gems out there. Every facility has their own spice, their own flavor that they bring to the barbecue hodge-podge of deliciousness."
To memorialize this fantastic local food trend, we cobbled together some of the new arrivals to the local barbecue scene — and some of the veteran heavyweights — to help get you to your next delicious pulled pork sandwich or rack of ribs that much quicker.
OUTLAW BBQ
Nestled on Wellesley Avenue across the street from the Veterans Affairs complex, catering-market-style Outlaw BBQ is one of heftier staple barbecue establishments in Spokane that can do it all: sandwiches, ribs, brisket, heaping meat platters and full catering services. And its founder, Ray Wilson, isn't even from one of the classic states known for their barbecue, like Texas: He's Nine Mile Falls native. So boost your personal Inland Northwest-foodie pride and go there and stuff your face. Even better, convince your friend to get them to cater their wedding. 4427 W. Wellesley Ave., Spokane, outlawbbqspokane.com
HIRO'S BBQ
Spokane isn't the only place with a thriving local barbecue scene. Hop over to Coeur d'Alene and you'll find a number of up-and-coming joints that are eager to satisfy your meaty cravings. One of those is Hiro's BBQ, which opened back in April and Everhart describes as "popular on North Idaho foodies" — an active Facebook group for opinionated food lovers. They've got a relatively small menu, but it still packs a punch. Go for the sandwiches, stay for the sides. 1500 Northwest Blvd., Suite A, Coeur d'Alene, Facebook
AUSTIN'S LIVE FIRE BARBECUE
In 2018, chef Mike Jones opened Austin's Live Fire Barbecue right in the middle of downtown Spokane to bring the joy of Texas-style dry-rubbed and house-smoked meats to our city center. To do this, Jones and his team are up at 4 am smoking meats in a custom-built three-pit smoker. The goal, as he articulated to the Inlander shortly after he opened, is to make the meat so good you don't even need sauce: "You bite into a rib from a Texas-style place and you just eat the rib. You don't really need the sauce, that is kind of my goal," he said. Grab some take-out and feast at nearby Riverfront Park. 421 W. Main Ave., Suite 104, Spokane, Facebook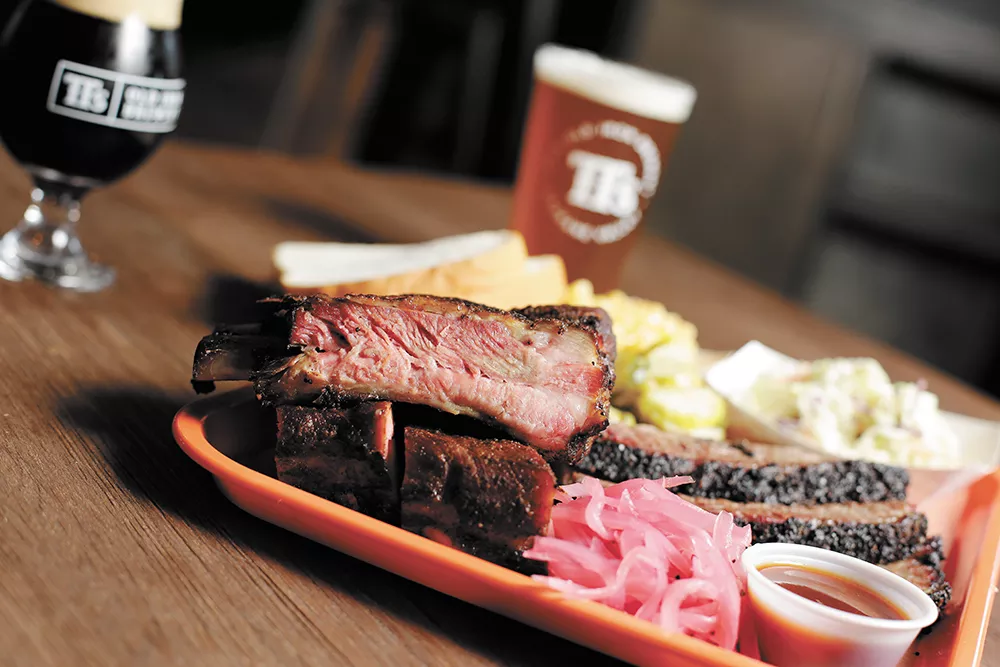 TT'S OLD IRON BREWERY
Are you a fan of Kansas-style barbecue with its irresistible spice-rubbed meat with thick, sweet, and spicy tomato-based sauce? TT's Old Iron Brewery in Spokane Valley, which opened in June 2019, has got you. They've got a solidly diverse — yet not overwhelming — menu created by local Chef Chad White that features, importantly, smaller portioned "handheld" dishes to keep your appetite at bay while you sip on a craft beer. The concept is simple enough: great beer and great barbecue. And the establishment's industrial industrial interior decor is an added plus. 4110 S. Bowdish Rd., Spokane Valley, ttsoldironbrewery.com
WHAT'S HAPPENING IN BBQ WORLD
In addition to the plethora of excellent barbecue restaurants dotting the Inland Northwest, there's also a pretty robust array of various community events that meat lovers can attend. Looking to learn science behind barbecue and get in the game? Grab a ticket for BARBECUE AND GRILL ACADEMY: THE CULINARY ART AND SCIENCE, a three-part class hosted at Washington State University in October that will dive into meat cuts, spicing and cooking techniques. (While the three sessions are part of a series, potential participants can also sign up for just one or several.) Over in Idaho, Coeur d'Alene hosts the annual FROM THE ASHES event where regional pitmasters and barbecue enthusiasts gather to cook, eat and generally celebrate "smoked and fired foods." In addition to food and beverage, attendees will also be able to attend sessions where chefs provide insight on creative ways to use smoked meat at home. Next year's event is slated for June 26 and 27. Father north in Bonners Ferry there's the budding WILD GAME AND RIB COOKOFF, a free-to-attend event and barbecue competition in front of judges. The cookoff is typically held in mid-July. (JK)
LONGHORN BARBECUE
Longhorn Barbecue, which has restaurants in both Airway Heights and Spokane Valley, likes to consider itself Spokane's "Spokane's barbecue tradition" since they've been operating in the area for 65 years, says partner and longtime employee Everhart. They do catering, takeout, and in-house dining. You'll also see their team members pop up at events like Hoopfest for mobile food sales. Their speciality is ribs done "Southern pit style," a technique that has its origins in Texas. "We're infamous for our ribs," Everhart says. "They are fabulous." They do a wet rub for their ribs, along with a dry rub for pork rounds and a wet rub for their brisket. They're a Spokane staple. Go get it. 7611 W. Sunset Hwy., Spokane & 2315 N. Argonne Rd., Spokane Valley, thelonghornbbq.com