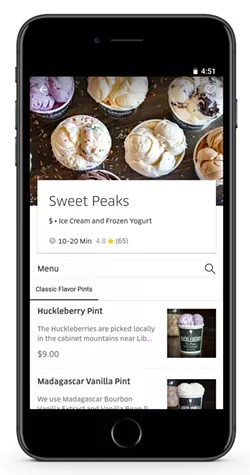 When it comes to food, we like to have choices, not just in what we eat, but also in how we eat. We can prepare our own food, dine out, or have meals delivered to us — at home, work or wherever we are. Computer-based apps and online ordering help users stay current on pricing, menu options, and terms of service, which may include a minimum order, delivery fee, or both.
GRUBHUB originated in 2004 and now serves 1,600 cities through 80,000 eateries nationwide and includes Seamless, Eat24, AllMenus and MenuPages brands. GrubHub's ordering process is similar to that used by other sites: search for restaurants, peruse the menu, load your "cart," tabulate the price and pay.
They're not the only contender for our dining delivery dollars, however. When UBEREATS launched their delivery service a few years ago, they brought name recognition and a stable of drivers. They have more than 100 local places on board — Longhorn Barbecue, Jersey Mike's Subs, the Great Taaj Indian, Sweet Peaks Ice Cream — mostly in Spokane and a handful in Coeur d'Alene.
Another significant provider is MR. DELIVERY (they absorbed TakeOutDeliveries) which includes the Old Spaghetti Factory, Papa Murphy's Pizza, IncrediBurger & Eggs, even Safeway groceries. Look to see more from EATSTREET, which continues to add locations in our region.
Diners aren't the only ones who benefit from the increase in delivery services. With three locations in Spokane and one in Coeur d'Alene, Sweeto Burrito uses UberEats, GrubHub and Mr. Delivery. Their Nora/Ruby location, for example, does the largest volume in delivery, says Sweeto Burrito district manager Dan Gregg.
"I am a huge fan of delivery services," says Gregg. "It allows us to focus on the food and not the tedious process of delivery." Each service has its pros and cons, says Gregg, yet they all add value to their business.
The takeaway from takeout food? Both the willingness of restaurants to expand their takeout offering and the availability of people willing to deliver our food have combined to create a meal delivery trend that shows no signs of slowing.