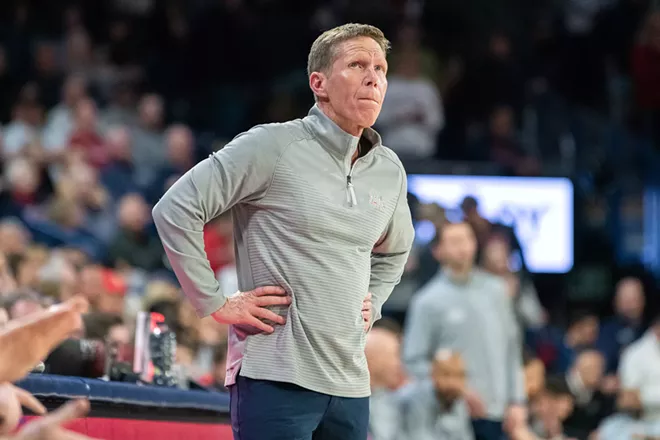 The rise of Gonzaga basketball is like an epic poem of old — with heroes and foes, triumphs and defeats, all spanning a full quarter century now.
The opening chapter of this saga hit its first cliffhanger when the Bulldogs walked off the floor on March 20, 1999, having just lost to UConn, the eventual national champion. The entire episode was like a dream — an underdog story evoking that lady with the glass slipper. But would Spokane wake up to find it was a one-off, with the stars never to quite align again?
Well, the carriage didn't turn back into a pumpkin. People had to look up Spokane on a map and learn how to pronounce the name "Gonzaga," but the Bulldogs just kept fighting their way into the NCAA Tournament. In fact, this year marks the 25th straight year the Zags have qualified. (The 2020 tournament was canceled, but the Zags kept the streak alive by winning their last game of that season, the WCC championship.)
Players on that '99 team like Matt Santangelo, Richie Frahm, Quentin Hall, Casey Calvary and Axel Dench forged a template for success, but nobody could imagine what that meteor hitting the pond would do. The waves have been washing over a city, a university and college basketball ever since.
It's no stretch to say Gonzaga basketball saved the university founded by good Father Cataldo all the way back in 1887. In 1990, enrollment was holding steady at around 4,200. By 1998, however, it had slipped to less than 2,800. Yikes! Around that time, some new trustees took a deep dive into the numbers, and it was not pretty. The athletic department was one of many parts of the university looking ripe for big budget cuts. Maybe playing Division I basketball was a luxury Gonzaga couldn't afford?
But the year after the magical run of '99, applications were up 12 percent; by 2003, they had doubled. Nosedive averted. And there was more, as alumni were activated, too — Phil and Tom McCarthey pledged the money to build a beautiful new athletic center.
Today enrollment is around 7,300, with students from all over the nation wanting to join the Kennel Club. New buildings have been popping up at a steady clip, with the Myrtle Woldson Performing Arts Center being a beautiful addition. And the university's partnership with UW Medicine is showing that Gonzaga is also reaching the highest levels academically.
And through all those years, on the court it's been a team effort with some unforgettable characters like Dan Dickau, Adam Morrison, Ronny Turiaf, Rob Sacre, Domantas Sabonis, Kelly Olynyk, Rui Hachimura, Jalen Suggs and so many more.
But one person was indispensable. You know, the guy doing handstands in the locker room after big wins.
Mark Few is the winningest college basketball coach, like, ever. His teams have won about 84% of the time. It's ridiculous, but perhaps the biggest thing he ever did in his 30-plus years at Gonzaga is the one thing he didn't do: He never left. There have been opportunities to coach elsewhere — Arizona, UCLA, even his alma mater Oregon. Bigger schools, new horizons, fatter paychecks. Earlier in his career, sportscasters seemed perplexed as they wondered why he just... kept... staying. And that's where you can cue up Few spinning stories of fly fishing on some secret stretch of river — you can almost hear Zag OG Bing Crosby singing along: "Oh, give me land, lots of land under starry skies above / Don't fence me in..."
But there's more to it than the Zen of a good trout stream. He's seen the cautionary tales of coaches reaching for those golden rings and what can happen when business decisions can negate all the good things loyalty and roots can bring. Gonzaga took a chance when they promoted the unknown Few just one year after that magical Elite Eight season. In fact, when Gonzaga Athletic Director Mike Roth told the school's president that they planned to promote Mark Few, Father Robert Spitzer asked, "Which one is he?"
Cute story, but nobody's asking that now.
The close of the 20th century also marked a turning point in the life of Spokane. Throughout the 1990s, the city seemed paralyzed by one existential question: What kind of city would Spokane be when it grew up? Would it be a model midsized city — dynamic, thriving, near nature, a place you want to live. Or would it be more like what it was in the 1970s and '80s — inward-facing, suspicious of new ideas, economically tepid, still telling everyone who would listen about Expo '74. In those days, it was the kind of place many young people left behind. But in 1999, change started coming quickly.
Only a few months after the Zags' 1999 run through March Madness, the shiny, new River Park Square opened for business (after four years of arguing about it), saving retail in downtown Spokane. Building on that the following March, Walt and Karen Worthy bought the Davenport Hotel and got started on its renovation. Now you can find ESPN's Sean Farnham hawking flatbreads at the second of three Davenport hotels. In June, a group of citizens (and the state) helped the Spokane Symphony purchase the Fox Theater for its spectacular new home. And in December 2000, Northern Quest Resort and Casino started bringing Vegas-style entertainment to town.
Every night the Zags took the floor over all those years, they shared a template for greatness — humble teamwork, steady leadership, common purpose, joy. These are exactly the elements you can build a successful city on, too.
With growing confidence, we've continued betting on ourselves, investing in Riverfront Park renovations, the new Podium sportsplex and even a new football/soccer stadium coming on line later this year.
Take it from Coach Few: We don't have to be more like some other place to be great.
In a bit of destiny that would fit right into The Odyssey, Corey Kispert, another one of those Zag heroes, was born just two days after Gonzaga won its way into the 1999 Big Dance. When he was asked to name the secret to Gonzaga's success, Kispert's answer captured the essence of these past 25 years in just two words: "Be us." ♦
Ted S. McGregor is the publisher of the Inlander.