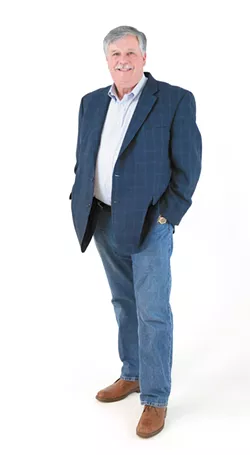 As a fourth grader at the old Irving Elementary on Spokane's lower South Hill, Best of Broadway's outgoing president Jack Lucas, now 66, knew he wanted to be a music teacher. At Lewis and Clark, he was the guitar player and singer in a band — the Manchester Union. (His mom had to rent the U-Hauls for all of the gigs out of town, as he was too young.)
From 1971-74, Lucas served on an aircraft carrier in the waters off Vietnam. After graduating Eastern Washington State College in three years, he landed that music teacher job in Davenport. To make extra cash, he was an usher at city-sponsored events at the Coliseum and Opera House, which led to quickly leaving teaching to become Spokane's first-ever event supervisor. Don Barbieri noticed him and hired him to join his fledgling G&B Select-a-Seat (now TicketsWest).
When G&B was approached about promoting Cats at the Spokane Opera House in 1987, the whole team was intimidated, but, as Lucas recalls, "Don Barbieri always said, 'God hates a coward.' And true to his word, we tried it."
Cats was a huge hit, and the annual series was born. On Feb. 3, when the final curtain falls on the third run of The Lion King in Spokane, it will also mark the end of Lucas' run.
INLANDER: The Lion King is a fitting end, as it's first run [six weeks in 2005] blew away any notions of what kind of theater-going town Spokane is.
LUCAS: If I had a show to go out on, The Lion King is that show. In the early years, I was on my hands and knees begging for shows to come here. Prior to the 1999-2000 season, we weren't on anybody's map. The watershed moment for us really was Miss Saigon, Phantom and Les Mis all in that same season. People were saying, "Lucas, you're frickin' crazy." Then we had an amazing season — the community really supported us. After that, one friend in New York said, "Now I'm gonna call Spokane that little city that can." You want to know how we got The Lion King to come in 2005? It all started with that Y2K season.
How do you measure the cultural impacts of bringing the arts to Spokane, beyond the economic impacts?
I'm really proud of shows like Rent, which was considered really edgy when we brought it — some cities just would not play it. Kiss of the Spider Woman, that's another. Wow. And The Color Purple... I know that's a tough story, but what a story. The Color Purple might have been the best overall production we ever brought. Where would we be without Broadway, the Symphony and all our other nonprofits and arts groups? I firmly believe that our community is defined by the arts.
I'm sure it'll be tough when that final curtain falls...
There comes a time when you have to make that decision. You have to say, "I think it's time to turn this over to someone else." You just know when the time is right.
And there is kind of a cool bit of serendipity about your replacement, Justin Kobluk...
Justin's dad, Mike, he gave me my first job as event supervisor for the city of Spokane. But Justin's been in the biz, at the Tacoma Dome, Key Arena, Northern Quest. He grew up around music, went to Ferris High School. It's important to have a guy like Justin who is a Spokanite, who actually grew up attending our Broadway shows and who understands and is in touch with the community. It's just a natural fit.
So in the end, you did spend your life devoted to music...
I always tell people I'm just a frustrated performer-turned-businessman. ♦
This interview has been lightly edited for length and clarity.