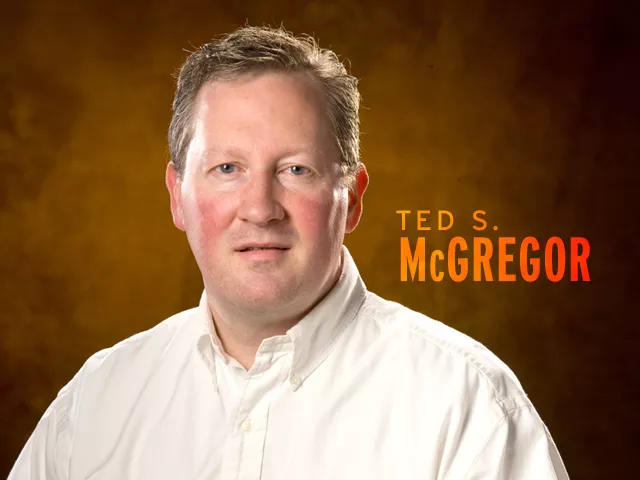 Right about now, you're probably thinking, "Why the cuss am I wasting my precious time reading McGregor's column — I need a Halloween costume! Pronto!"
Well, this is your lucky week as I'm taking a break from the dour predictions of our political demise to perform an even more crucial public service. That's right, it's my First Annual Guide To Last-Minute Halloween Costumes You Can Create From Junk You Have Laying Around.
So let's get to it: You can always play it straightforward, and you'll get approving nods from all. You could be the Old Spice guy — you just need a towel, a tube of Swagger and some six-pack abs. But the killer costume requires more — and laughs are the best proof of a great get-up. Lady Gaga and her meat suit would, of course, be hilarious — but expensive, unless you've got some surplus sirloin in the fridge. But twist it just a little — maybe it's the vegan version, with a dress made of tofu? (If you're out of tofu, just substitute yogurt.)
It's always fun for couples to go as a matched set, and this year don't just settle for Snooki and the Situation. Not when Harry Reid and Nancy Pelosi are so ripe for the picking. Just dress up in your nicest suits, smile, act clueless and, from time to time, ask people if they know of any jobs opening up in, say, mid-January. If you prefer your mockery to be more universally embraced, go as Kim Jong Il and his idiot son — all you need is hair gel, giant sunglasses and a big, red button. Don't forget to wear your best yeah-I'm-really-freakin'-crazy grin all night.
Sometimes a sign around your neck can be twist enough. For example, go as a witch — black hat, broomstick, pointy shoes — but wear a sign that says, "I am not a witch." As an added bonus, your Christine O'Donnell can carry around a copy of the Bill of Rights, redacted with all the un-American parts blacked out.
But hands down, my No. 1 costume for 2010 landed in our laps like a dream just last week. Yes, I'm talking about Jimmy McMillan, long-shot candidate for governor of New York who represents the Rent Is 2 Damn High Party. So pull some stuffing out of that old chair in the basement, style it into his signature handlebar mustache and poofy goatee, and you're good to go. But all night, no matter the question, you are allowed only one response: "The rent! It's too damn high!"
Okay, fine — you can also say, "Now gimme some candy!"