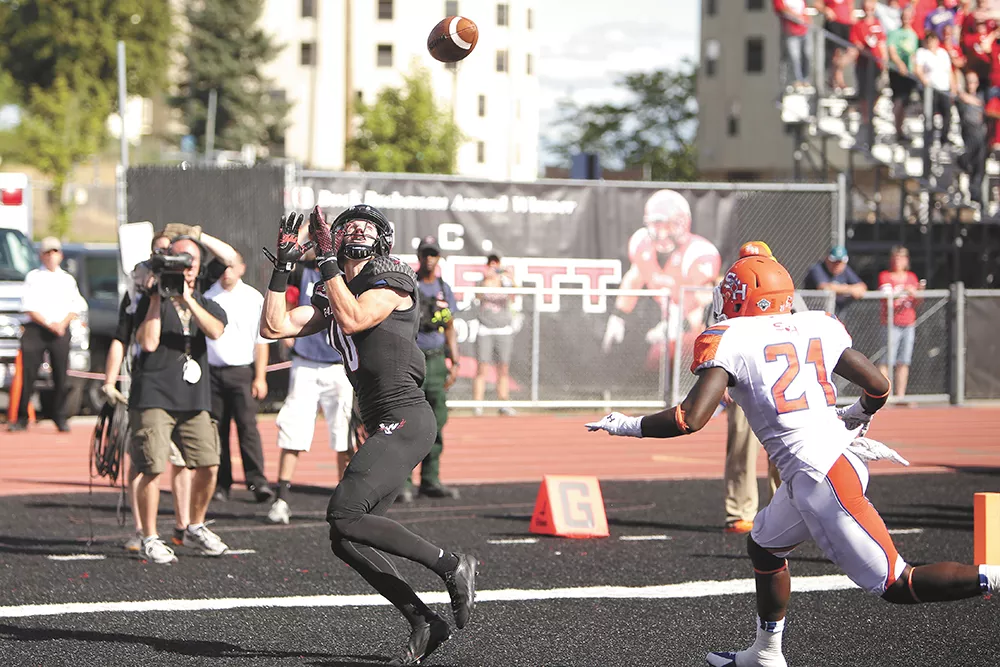 Y ou can accurately say that Cooper Kupp became a man in Cheney. The blond-haired receiver still looks like a kid despite his athletic physique and efforts to grow a beard over the summer. He's been hanging around the Eastern Washington University football fields since he was a high schooler coming to camp, so anyone who's been around the program a few years has literally seen him grow up. A year ago, he even got hitched, his new bride putting an Eagles helmet on his head after the vows before jumping on his back for a ride down the aisle in a ceremony attended by teammates past and present.
In his time at Eastern, Kupp hasn't just become a man. He's become The Man.
The numbers are staggering.
Even taking into account Coach Beau Baldwin's pass-happy system that's made Eastern Washington an offensive juggernaut for the past decade, the statistics that the 6-foot-2, 215-pound senior wide receiver racked up in his first three years defy all logic.
Cupp averages 122 receiving yards every time he takes the field. Last season, he caught more than 10 passes per game, a Big Sky Conference record and an utterly absurd tally, considering that every team Eastern plays knows they have to stop him. Even if he merely has an average season in 2016, Kupp will finish his college career as the Football Championship Subdivision's all-time leader in touchdown catches, receptions and receiving yards.
Of course, the economics major didn't eschew an early start to a potentially lucrative NFL career to come back and have just an average season.
"I think you should always try to do better than the year before," says Kupp, who won the Walter Payton Award winner as a junior for being the best offensive player in the FCS. "I set goals like, 'If I have a dream season, what would it look like?' So I'm striving to be perfect. I want excellence all the way."
For Kupp, the perfect ending to a legendary career would be leading the Eagles to an FCS national championship after a 2015 season in which the team scuffled to a 6-5 record and didn't win the Big Sky Conference title or make the playoffs for the first time since 2011.
There's plenty of reason to be optimistic heading into 2016, even as the team has to replace its entire offensive line and faces a daunting pre-conference schedule that includes Washington State and FCS powerhouses North Dakota State (they of the five consecutive FCS titles) and Northern Iowa. That optimism starts with Kupp and his new role as a senior leader.
Baldwin says Kupp has been a natural leader by example since he set foot on campus, but maybe didn't speak up as much as he wanted out of respect for older players on the team. When the two discussed after last season ended whether or not Kupp should leave school for the NFL draft, his leadership was something both coach and player thought could improve this year.
"Now he really feels free, knowing that he's a captain coming back, he's a senior," Baldwin says. "He feels free to lead to the highest level ... Cooper is out there on his own, scheduling stuff, doing stuff when the guys are working hard, when no one's even watching them. He gets them going on all that extra stuff 365 days a year."
Kupp's work ethic and leadership isn't limited to his fellow receivers or just the offense. "You see it bleed through our defense, too," says Baldwin. Zach Bruce, a senior defensive back who's spent his entire Eastern career competing against Kupp in practice, agrees with the coach. Bruce says he's seen "amazing growth" in Kupp's abilities and leadership through the years, and that the receiver "works harder than anyone else I've ever been around in my entire life.
"He comes in every single day and puts the work in. There's no days off for that guy," Bruce says. "I've come in and thought I was the earliest in the weight room or the film room, watching film at 6 am, and he's already there. And he's already been there an hour. It makes me a little mad, like, 'Damn, I guess I gotta come in a little earlier!' He's setting the standard for the entire team, and that's what he's done ever since he's been here."
Kupp also has worked to improve his game on the field, of course, and he describes working on little things, adding to his "utility belt" on the field to give him an advantage over his opponents. Receiving is an art to Kupp, which is why some of the greatest to ever play the position — he cites Jerry Rice, Randy Moss and Chris Carter — managed to master their craft without being carbon copies. "That's why it's an art," Kupp says. "Even the best can't copy each other."
As much as he'd like to pass on his skills to his teammates in Eastern's receiving corps, some things can't be taught. Anyone who's watched an Eastern game and seen Kupp somehow get open time after time, or catch a ball in traffic and improbably shake out of a tackle for a long run, has seen something special he brings to the table. Baldwin considers Kupp's ability to set up defenders and get open "the equivalent of the way Peyton Manning played quarterback," and his balance and ability to stay on his feet after getting hit is unparalleled. "He'll be able to do both those things at the next level, too," Baldwin says. "He'll get open, and he'll be able to break some stuff, even at the highest level."
The NFL can wait, though, while Kupp and his Eagles teammates line up for a fall when they'll face high-ranked competition and conference rivals on a weekly basis. Erasing the memory of a season that "wasn't up to par" was part of Kupp's motivation for returning his senior year, as was "the opportunity to play one more season with my brothers, guys who are going to be lifelong friends to me." He prayed with his wife about the decision to return, and felt that "we're supposed to be here this year."
"I think this is a special year for us, and I just want to be a part of that." ♦
---
EASTERN WASHINGTON EAGLES
LAST SEASON'S RECORD: 6-5 (5-3 Big Sky)
PRESEASON COACHES POLL: 14th nationally, 4th in Big Sky
NOTABLE RETURNING PLAYERS: WR Cooper Kupp, LB Alek Kacmarcik, QB Gage Gubrud
NOTABLE NEWCOMERS: QB Eric Barriere, OL Chris Schlichting, RB Tamarick Pierce
HEAD COACH: Beau Baldwin (9th season: 73-30 overall, 50-14 in Big Sky
SEASON OPENER: at Washington State, Sat., Sept. 3, 5 pm, Pac-12 Network