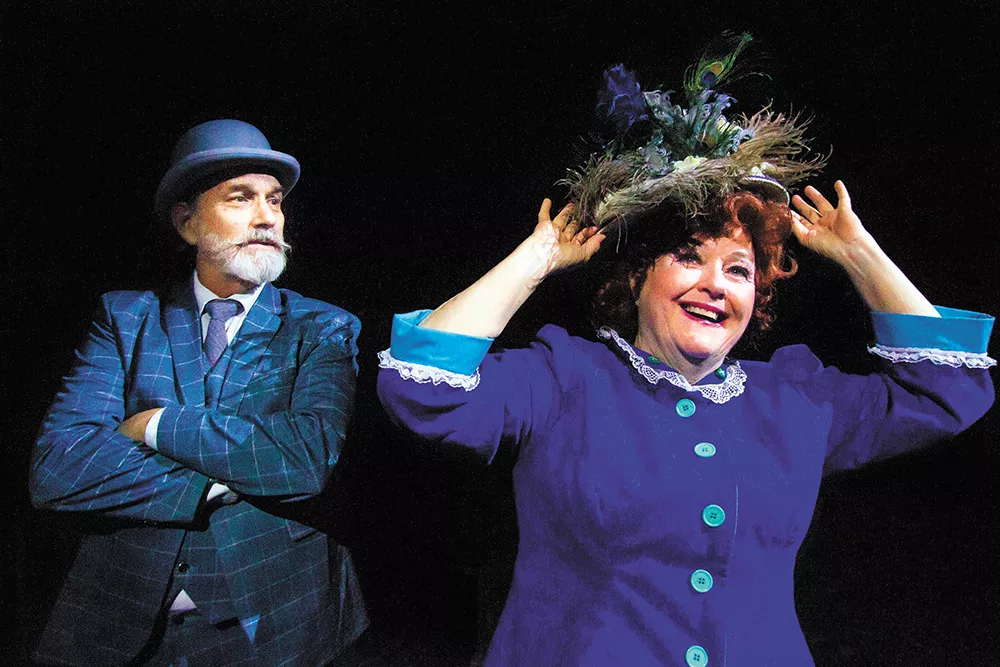 If our universe's timeline had unfolded in a slightly different permutation, Troy Nickerson would currently be directing a play about a group of white supremacists from North Idaho.
But that's not how things played out. Instead he's overseeing Hello, Dolly!, a lighthearted warhorse musical that might very well be the antithesis of God's Country.
The catalyst for this chain of events wasn't exactly a happy one. It hit back in November with the death of local actor and director Lance Babbitt, a loss that left the region's theater community in mourning and the Civic without a skilled director for its season finale. More poignantly, Hello, Dolly! had been one of Babbitt's all-time favorite shows, so it was vital that any replacement do justice not only to the musical proper but to his memory as well.
For the Civic, that made Nickerson a clear choice.
"As resident director at the theater, they asked me if I would step up to take Dolly on," says Nickerson. "Lance was a buddy, and we'd been friends for a long, long, long time. We'd done theater together since we were 17, 18 years old. We worked together for the first time in Guys and Dolls when I was Sky Masterson and he was Nicely Nicely."
Before he could commit, though, Nickerson had to step back from God's Country without leaving Stage Left Theater in the lurch. He called Tia Wooley, Stage Left's managing director, to break the news.
"She immediately understood," he says. That theater then began its own search for a replacement, and Nickerson returned to directing the production he was working on at the time, Who's Afraid of Virginia Woolf?, whose tension and disquiet makes it a closer dramatic cousin to God's Country than a beloved musical comedy about a scheming matchmaker and an eligible half-millionaire.
"It's been whiplash going from Virginia Woolf to Hello, Dolly!," he says.
Fortunately, that abrupt transition has been smoothed by another cosmic blip, this one much more auspicious. It happened last summer when Robbi Starnegg and her husband were still living in Salem, Oregon.
"We came up to Spokane on a whim on a weekend last July and fell in love. We decided instantly, 'This is where we're moving,'" Starnegg says. Soon after settling here, she met longtime Civic costume designer Jan Wanless and became involved with the venue.
Starnegg, it turns out, is a former Equity actor who's worked for professional and community theaters from California to Maine. After "semi-retiring" from the professional circuit, she was on the fence about auditioning for a role in Hello, Dolly!, not least because the newcomer felt that the "phenomenal" local talent pool would offer some stiff competition.
"I had volunteered to help with the Dolly costumes, and then I thought, 'Oh, these auditions are coming up. I'm just going to try. I'll sing a song and we'll see.' And by gosh, by golly, I got a call about Dolly," she says.
"She's the real deal," Nickerson says of Starnegg and the decision to cast her in the lead role. "At first you see this meek, kind of little old lady. And then you're like, holy cow. She's got a big, beautiful voice and is a really, really fine actress. She's going to really charm audiences as well as sing the heck out of the score."
Though new to the Spokane stage, Starnegg has quickly developed a rapport with Nickerson that's helping to tease out some new sides to a classic character, meddler and moonlighting mandolin instructor Dolly Gallagher Levi.
"One of the things — and Troy has been helpful in bringing this out —is Dolly's realism," she says. "There's always a temptation to look at those who have done Dolly prior to you, whether it's Bette Midler or Bernadette Peters, Mary Martin, Carol Channing, any of them. You want to stay away from what they did. We're looking at her not as a caricature but as a real person."
That exploratory process has been augmented by veteran Civic cast members like Thomas Heppler (playing rich widower Horace Vandergelder) and Heidi Santiago (as widow Irene Molloy).
"Everybody is very instinctive, so new ideas are coming up all the time," says Starnegg. "One of the beautiful things about this production that I've noticed is that everybody is on the same page, on stage and off."
The combination of creativity and camaraderie is one reason why she and Nickerson both feel as though this particular production of Hello, Dolly! will be a fitting tribute to Babbitt, who was a regular — and often ebulliently comedic — presence in regional theater for nearly four decades.
"It's like what Dolly herself is about," she says. "You get one shot at life, so make it the most glorious, most beautiful, sunniest and most joyful experience you can."♦
Hello, Dolly! • $32 • May 18-June 10; Thu-Sat at 7:30 pm, Sun at 2 pm • Spokane Civic Theatre • 1020 N. Howard • spokanecivictheatre.com • 325-2507