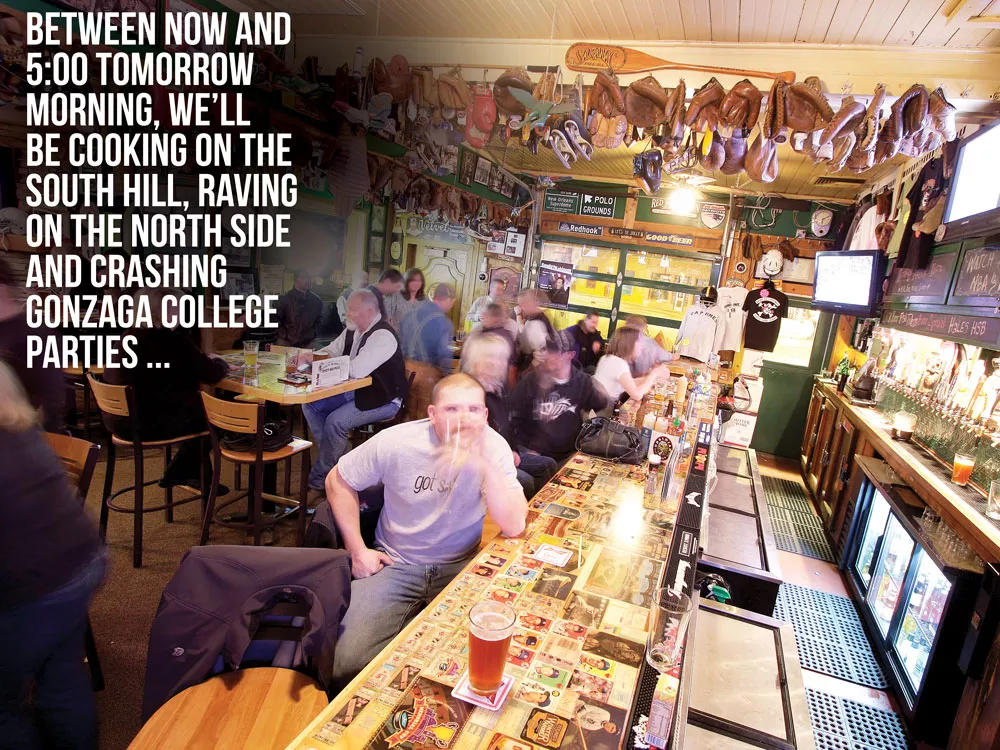 For this year's Nightlife issue, we sent 11 writers out to 23 different sites from Coeur d'Alene to Cheney, in order to report back on the people — the teachers, lawyers, drinkers, dancers, singers, actors and art-lovers — who are out on the town in the Inland Northwest every night, hoisting a drink, catching a show and making a scene.
Here are the results of our one-night stand.

5:12 pm
CAPONE'S, COEUR D'ALENE
The first beer of the night, and it couldn't have come quickly enough. I'm sitting at the bar at this midtown favorite, which is already buzzing with what has to be 150 people. There are four different games on various TVs, the bar's 20 beer taps are flowing liberally, and everywhere are close huddles of people — in suit jackets and casual dress, ball caps and sweater vests.
"We get a good cross-section here," says Tom Hinkel, a friendly construction supervisor who, in suspenders, a fisherman's wool cap and Carhartts, looks like Ron Paul as a longshoreman. He points out some of the other regulars at the bar. "He's in construction, we got a lawyer, a school teacher … This is really your whole community."
Looks like we couldn't have picked a better place to start, then, as this year's Nightlife issue is about the people — the teachers, lawyers, drinkers, dancers, singers, actors and art-lovers — who are out on the town in the Inland Northwest every night, hoisting a drink, catching a show and making a scene.
Tonight — Friday, Feb. 11 — we've sent 11 writers out to 23 different sites from here to Cheney. Between now and 5 o'clock tomorrow morning, we'll be cooking on the South Hill, raving on the north side, waiting in the wings downtown, chugging "Mama Num Nums" in the Valley and crashing Gonzaga college parties.
It's been a long week planning this escapade, and I'm crossing my fingers, hoping that all goes well — that Tiffany Harms doesn't get kidnapped from the Valley videogame arcade, and that Kevin Taylor doesn't gamble away all The Inlander's money at Northern Quest.
Still, tonight I lift my 20-ounce IPA to my fellow night-wanderers, and to all the people — like Longshore Ron Paul here — who get out there and make our nightlife the weird, friendly, (sometimes) happening thing that it is. (Joel Smith, section editor)
6:05 pm
LUNA
The restaurant's dining room is quiet, but the kitchen is bustling. The cooks at this elegant South Hill joint are busy preparing for a robust Friday night — made even more so because it is Valentine's Day weekend. "The books are pretty full all weekend long," says Chef Tony Brown, my brother. Tony is stirring compound butter in a large, stainless steel mixing bowl. It contains parsley, tarragon, dill and whole mustard seeds. "I have to stir this by hand rather than use the food processor so the seeds stay intact," he says. Smiling, he adds, "I like to do things the hard way."
Luna's general manager, Chris Siemens, pops into the kitchen to discuss the soup of the day: a roasted fennel and potato concoction that is garnished with parsley and truffle oil. He and Tony ultimately decide to add a crouton to the soup for a little textural excitement. Siemens then changes the subject, asking Tony if he's ever smoked onions.
Before he has a chance to answer, sous-chef Sean Payne quips, "Yeah. They're hard to light." (Jon Brown)
6:15 pm
ISABELLA'S ROOFTOP
She's even more beautiful in person than in her movie. Danielle Barbieri's black dress is tiered like flower petals that sway a little when she walks. "I'm so excited and everything is going great so far," she says, brushing back the soft curls in her hair. "This is our first premiere party and it's off to a good start." The Spokane director is celebrating her film, Lady Lilly: Adventures in God's Country, with a glitzy party on the rooftop. The air smells like popcorn, from the Magic Lantern Theater, and the entire building is buzzing with traffic from the Spokane International Film Festival and people looking for a drink at the restaurant below.
"I'm just a proud mama," says Eileen Barbieri, who's every bit as glamorous as her daughter. "To have the premiere in Spokane, where we started, is just special, and it's an honor to have SpIFF select it." The backdrop of this white-tent affair feels swanky, but the crowd is mostly friends and family hugging, encouraging each other to grab another glass of Stella. Everyone looks proud of this hometown girl, who has moved far from our city (to New York City) to seek her destiny with the big screen. (Jordy Byrd)
7:21 pm
ACLUB
The long stairway up to this West Sprague venue always smells like a deep fryer, wedged as it is next to the venerable soul-food dining establishment Chicken 'N' More. At the top of the stairs I pay the $5 cover charge and walk into the cavernous — and nearly empty — performance space. The band I came to see, local pop-punk act Small Town Nation, is not around.
Three hours later, after a couple Rainiers at neighboring Mootsy's and a cheeseburger from Red Robin, I wander back upstairs to catch them. The room is less than half-full, which is more full than usual. The crowd is devastatingly young, save for a few older folks in one corner who are clearly the parents of someone in the band.
The band itself bristles with goofy energy. The crowd is rather conservative. Nary a head has bobbed or a hip swayed. The bass player, Boone Schriebman, steps up to the microphone, points to an audience member and says, "This guy looks exactly like Justin Bieber!" He then attempts to lead the audience in a chant of "Bieber" but is met with little enthusiasm. The music and the crowd are an alien combination to me. I stick around for five or six songs. They're all played tightly and suffused with a good amount of positive energy, but I've heard enough. It's time to go look at naked women. (Jon Brown)
7:27 pm
ALL SAINTS LUTHERAN CHURCH
The lights go out for Palestinian Ziad Abbas' slideshow at this church in Browne's Addition, and Abbas suddenly becomes a silhouette against the towering Christian cross that is still spot-lit in the nave behind him.
It is just one of the striking moments in Abbas' two-hour lecture and slideshow, which is ostensibly about a clean-water program he has created for schoolchildren in the Gaza Strip. But to get there, we have to go all the way back to 1878 and the first Zionist settlements in Palestine.
Out in the entry hall, I note that the clenched fist of populist justice sometimes can't pick just one injustice. Long tables here are covered in clipboards with petitions to end the war, and stacked brochures hailing the martyred Rachel Corrie or denouncing such ills as the fact that Bob Dylan (that demon …) is more popular than Phil Ochs.
This cornucopia of worthy causes is perused by the 50 or so who filter in. "They all came at 6:59," says organizer Liz Moore. "This is a nerve-wracking town to put on an event."
Abbas speaks for nearly two hours and his history, at times personal and painful, is an eye-opener to the Whitworth students attending for a class.
"I'm really glad we had the opportunity to come here. I plan to stay in touch," says engineering junior Peter Beck, struck by the social justice aspect of water purification in conflict zones.
But there was also something else on their minds: Whitworth men's basketball, No. 1 in the nation. "They are in the second half right now," says Daniel Hoffman.
They could make it back to campus in 18 minutes, they estimate.
Eighteen minutes at the speed limit?
"As long as that tape recorder is on … yes, we are going the speed limit," Beck says. (Kevin Taylor)
7:35 pm
BEGIN! AT THE MAC
Amid mumbled "Freebird" requests, lead singer John Blakesley takes a sip of his beer and makes a request of his own: "Keep the MAC alive. Call your Congressman," he tells the audience. Red, blue and green lights flash on his face as his band, Hey! is for Horses, plays in front of the Museum of Arts and Culture's floor-to-ceiling windows. The band brought the lights and a fog machine, which earlier filled the room with so much smoke, the MAC made them turn it off.
Downstairs, Cameron DeHaven takes a break from noshing on some chips to explain why he's come back to BeGin! for the third time: "free food, free exhibits, free music, drinks and to support the MAC." His buddy, David Weber, who dons a "Save the MAC" pin, says he's enjoying the event before probably heading over to a dubstep party.
Conversation shifts to the museum's budget woes and Weber asks, rhetorically, "What are 400,000 people with no MAC and no MOMA?" Nearby, people write valentines to Congress. They're really love letters for the museum, hoping to ensure Spokane doesn't have to answer David Weber's question. (Chelsea Finger)
7:38 pm
SONS OF NORWAY RAVE
"It's my birthday today," says Chelsea Nelson, 20, as she slips on a pair of neon-pink, fuzzy stockings that reach up to her thighs. Combined with her shredded bikini top, they make her look like a futuristic Pocahontas. Nelson is part of a local dance troupe called the Electro Dolls, whose job it is to get people on the floor, and she's here at the Sons of Norway hall to party.
"The cool thing about raves is you can dance however you want," Nelson says. "You let your body move and go with it. You're able to just release." This building is part community center and part rental space, and the juxtaposition between ravers and building managers (who watch from a nearby office) is alarming. But tonight, the dubstep fans have them outnumbered.
Young men dance with Technicolor wands and women hula-hoop across the dance floor, as the wobbly bass line of the music thumps in their chests. Meanwhile, the strobe lights and purple lasers colliding overhead create a colorful canopy. "This culture is very open and accepting," Nelson says, strapping lights to her waist. "You can be whoever you want and you can act however you want." (Jordy Byrd)
8:18 pm
INB PERFORMING ARTS CENTER
Standing in the darkness near me, she holds up a pair of panties. Soon a young woman in a business suit rushes into a makeshift cubicle, where the first woman starts Velcro-ripping and snapping the businesswoman into a cheerleader costume. (The panties fit over her nude pantyhose.)
I'm backstage during the first act of Legally Blonde: The Musical, and I'm surrounded by stagehands during a set change. A guy in an outlandish plaid golf get-up strolls onstage with his putter held aloft. He turns out to be the "father" of Elle Woods, the main character, whom he's trying to persuade not to go to law school. Over in the opposite wing, there's a cluster of bare-chested guys in hula skirts. Soon they'll be the party-hearty tempters who will try to lure Elle away from her studies. Chorus members come piling off the stage, joking and making faces while still singing, on cue, into their wireless mics: an offstage chorus.
I'm watching a dance break when one of the stagehands tells me to scoot — they need to move this bench. Soon after, I'm standing too close to another intimate quick-change. Back in the costumes-and-makeup area, dancers are lolling about in their underwear. I love show business. (Michael Bowen)
8:29 pm
LEFT BANK WINE BAR
"Woooo! Liz Rognes!!" Kari Marguerite is standing at the far end of this downtown Spokane wine bar, holding a glass of red wine, when local singer-songwriter Liz Rognes finishes her first song.
Kari, who plays often in this warm, brick-walled wine bar ("This is my home port"), cheers loudly — tastefully — for her friend and fellow musician. Other patrons clap half-heartedly, while others, sipping big glasses of wine and sharing thick-crusted pizzas at tall bar tables, don't seem to notice that there's a musician playing at all.
The two local singers couldn't look more different. Kari is an entertainer: leopard-print top, a big flower nestled in her wavy brown hair. Earlier, she belted out a cover of Neil Diamond's "Red, Red Wine" — tightly pressing her eyelids shut to hit the high notes. Liz is more understated as she sings, quietly and confidently, with an acoustic guitar.
Yet each artist claps enthusiastically for the other after each song. While Liz is onstage, Kari bubbles over with enthusiasm talking about her friend.
"[Liz] has this folksy, bluesy tendency — like she's sitting on a porch just playing with her friends," she says. "And her lyrics are, like … wow."
Kari says she tries to support as many local female musicians as she can. She feels like it's her duty.
"We've gotta be each others biggest fans," she says. "I'm absolutely going for that."
Kari chats breezily with friends, wine glass in hand, when Liz's songs stop. I ask her when she's supposed to play again.
"Oh! Probably now." And she takes her place at the piano. (Leah Sottile)
8:47 pm
UNCLE D'S COMEDY UNDERGROUND
Comedian Morgan Preston has just insulted Gina Young yet again, in front of his entire audience. Preston, lit up brightly in this dark room, is mad about staying at the Super 8 Motel in Spokane. He's anxious from not having smoked weed today. And Young, who is here with her husband and their friends, has begun to heckle him. He pushes back, and she loves it.
"He's unfiltered," says Young. "That's how I am, I can relate."
The club, located on the top floor of Bluz at the Bend, smells strongly of hot wings. The bouncers appear as though they'd be more at home in a '90s club, wearing slightly ill-fitting pinstriped suits and chunky silver necklaces, their heads glistening with hair gel. Behind them, a tank of live lobsters. It seems as though this would be a bad place to try and pass a fake ID. All things considered. (Tiffany Harms)
9:07 pm
TRIPLE PLAY FAMILY FUN PARK, HAYDEN
A young woman is cleaning up the mess left by the previous customers, moving her mop to the beat of the music. But it's not that someone just puked from over-imbibing. Thirty minutes ago, a squadron of 150 middle-school kids bowled their last frames and left. Bedtime called.
This part of Hayden is very G-rated.
"We're more of a family place," says tonight's manager-on-duty, Chris McCreary. "We have bottled beer, but we don't have a bar. People who want to drink and bowl go somewhere else."
That's fine, because we're here at this entertainment mega-complex for duckpin bowling. Think regular bowling, but in miniature. The pins are small, you get to use bumpers, and the balls are about the size of big cojones being mimed during a game of Charades. But don't be fooled: The wee pins can be so tricky to topple that traditional duckpin rules give bowlers three tries per frame instead of two.
McCreary taps a group of idle teens to demonstrate. A trick-shot between the legs nails a strike while a timid delivery barely knocks down two pins. Both looked odd, and neither had the satisfying crack of scattering pins. But the novelty is the very definition of good clean fun. (Aaron Mahan)
9:55 pm
NORTHERN QUEST CASINO, SPORTS BAR
"Riding escalators is really fun. You don't get a lot of escalators in Okanogan, so when you see one, you've got to take advantage."
Tyler Horner, a cheerful 21-year-old from Okanogan, drove down for a night at the casino with other friends from small towns that are sprinkled like little pinpoint stars in the orbit of Spokane.
And yes, it was a night of hopping the escalators for Horner and his buddies. And more: "I love this bar. … There are so many TVs, I don't know what one to look at."
This sentence, freighted with wistfulness and delight, floated over my right shoulder as I sat at the bar of The Q, the sports bar at Northern Quest.
Horner's table included Bryce Morrison, who's from Wilbur (which is smaller than Okanogan) and Ryan St. John, from Almira (which is smaller than Wilbur).
They meet up at the casino a couple of times a month.
"You got gambling, you got a nice sports bar … beautiful women, obviously," St. John says.
"There's people, there's women …" Morrison stresses.
And, keep this on the down-low, there are escalators there that run all night. All night. (Kevin Taylor)
10:10 pm
GIBLIANO BROTHERS
Before the end of the first verse gives way to "You shook me all night long," Jennifer Pauls rushes the dance floor. Her friends join her, glow sticks draped around their necks and wrists. "Yeah, you!" yells Steve Ridler, one of this downtown club's regular dueling pianists, and the crowded dance floor belts out the rest of the verse: "Shook me all … night … long!" Ridler, wearing black Risky Business sunglasses, jumps up on his piano, produces an electric guitar from somewhere and starts riffing. A woman in the audience finds a cowbell and bangs to the beat while a guy on the dance floor shakes a tambourine.
"Let me hear you, Spokane," Ridler calls out and they sing the chorus once again.
Pauls and her friends came for Pauls' bachelorette party. "I love it because it's all the music I sing in the car and it's great for all ages," she says, explaining that her mom is there, too.
Later in the night, another bachelorette, wearing a sash decorated with blinking red lights, runs up to Pauls. "You are beautiful!" Bachelorette Number Two gushes, grabbing Paul's shoulders in a moment of bridal sisterhood. (Chelsea Finger)
10:34 pm
TILT ARCADE
Sweat is gathering in giant beads on John Marshall's forehead, slowly slipping down his face as his hands pound furiously at the colorful controls of Tekken Tag Tournament. Besides being the only customer at this arcade at the Valley Mall, he is also the only person there over the age of 50. Wearing sneakers, military-green overalls and an unidentified sports jersey, Marshall is deep into his martial arts battle game.
"I don't do the fancy moves a lot," he says while still trying to focus on his character. The letters "KO" flash on the screen. "I win more than I lose it," he adds, in spite of the knockout.
Marshall says he used to play more often, but not so much anymore. Tonight he just needed to get out of the house. "Roundhouse kick!" he shouts, feverishly. "Roundhouse punch on this!"
The "KO" appears again, and he becomes more self-conscious, his sheepish smile giving him away. He regains focus, not seeming to notice the employees across the room and the whoosh sound of all these games advertising themselves at once. (Tiffany Harms)
11:23 pm
MAMA'S THAIWAY LOUNGE
"Mama badass motherf---ing bitch!" shouts Mama as she throws her arms up in the air. Her son, the bartender, quietly texts on his phone, paying her no mind.
Mama seems almost too brilliant to exist in real life. A tiny Thai lady, she has a mouth like a hardened trucker and only ever refers to herself in the third person, as "Mama." For the past 10 years, she has owned the Thaiway Lounge, a dive-like karaoke bar on East Broadway. She's elusive when asked about her life before the bar and restaurant, which now has what can fairly be described as a cult following. She's proud of the place, and of her signature drink, which she calls "Mama Num Num."
"It f---s you up after one of them!" Mama says, emphasizing her point with wide, crazy eyes. If you order it "Mama style," what you get is a pint glass filled with Hennessey, a splash of Watermelon Pucker and a dash of cranberry juice.
When asked if she was born a badass bitch, she replies without hesitation — "Hell yes!" — and pounds a shot. (Tiffany Harms)
11:49 pm
ZIP'S DRIVE-IN
The security guard is the first clue that, in Cheney, Zip's means more than corn dogs and Papa Joes. For Eastern Washington University students, when the bars close and the parties are busted, Zip's is always there, always open, always the greasy 24-hour after-party.
"Once you're a little intoxicated, it's like heaven," EWU student Taylor Brown says. "I think I ate a grilled cheese in a minute and a half."
The 11 o'clock hour slides into midnight, midnight turns to 1 am. Boisterous football players hand out bags of burgers and toss fries. The crowd will only grow bigger and louder and drunker until the 3 am peak.
Everyone has a Zip's story. Junior Patrick Forshag tells of the time his drunk friend walked into the girl's restroom, beat up the toilet and left with a bloodied hand. Manager Craig Hinton recalls a time when a cook staved off 50 angry revelers — who were upset that the fry sauce containers had gone dry — by mixing together mayonnaise and ketchup. Chris Bruner, the security guard, is on his third weekend of Zip's duty, and he's already seen one small fight break out and spill into the parking lot.
Tonight, however, one only sees a few awkward but passionate kisses. Love, and the smell of fry sauce, hangs in the air. (Daniel Walters)
12:05 am
LOGAN NEIGHBORHOOD, SPOKANE
A girl in black short shorts and glittery makeup breaks off from her friends, who are heading south on Hamilton Street towards Jack & Dan's. As she steps, wobbling into the crosswalk at Sharp Avenue, she looks back over her shoulder and says, "'Kay guys. Namaste."
I've stopped asking names. Asking people's names when they're drunk, and generally underage, and universally in fear of Gonzaga's security patrols, makes undergraduates clam up.
A large group of kids walks two-by-two along Mission Avenue away from Mission Park. "We just got bounced from that place," says a guy with dark brown hair. "We're heading back to the dorms."
"What was 'that place'?" I ask.
"That place," says a girl walking behind him, "was stupid."
I'm looking for a party, and not finding one yet.
Further west, at St. Aloysius School, two dudes are walking along. One is frustrated. "Dude," he says, "I'm still waiting for one of these trees to be really climbable."
A group of six, all holding bottles of beer, wend their way south towards the intersection of Mission and Astor. One stops, backlit by a porch light, and tips his Bud Light all the way back, then clandestinely slips the empty underneath a white vinyl fence.
I finally find my party at 12:36 am, on the 300 block of East Augusta. Bursting through the door, I'm confronted by a throng of senior women, dressed like sexy schoolgirls, jumping around a table, screaming along to Old Crow Medicine Show's "Wagon Wheel." Later, in the garage-turned-beer pong arena, where the guys who rent the house keep the Kegerator, Hall & Oates follows hot on the heels of Taio Cruz.
"You want in on this?" asks one kid, a nice guy with a scar tracing a meridian from ear to ear. "Step up. Step up." This angers a pair of the sexy schoolgirls. Apparently, the nice guy with the scar gave me cuts. "There's a list, guys," one says. I put my name on the list and sit back. Beer goes down so much more easily when it comes from an avocado green refrigerator and the tap is self-serve. Eventually I realize that the schoolgirls have given way to a group of dudes. Then another group steps up, and then a fourth. None of these names were on the list. Total freshman mistake.
I get the last laugh, though. At about 1:20, I scribble on their little list until "Beer Pong" reads "Boner Pong."
The night ends, near as I can recall, with the entire party nostalgically wailing along to Jay-Z's "Young Forever." (LUKE BAUMGARTEN)
12:10 am
DÉJ VU STRIP CLUB
The Déj Vu has been a destination for drunken horn-dogs for at least 20 years. My plan was to roll in here solo and case the joint for a while before trying to chat up some dancers. But sometimes the night has its own ideas. So instead, I have three female friends in tow: Lindsey, her younger sister Lexi, and McCall, whom the sisters had only just met at the Satellite hours ago. They've all been drinking.
We walk into the club. It's not very busy. I sit down near the stage with my 7-Up and am immediately approached by a tall, brunette dancer who offers me a two-for-one private dance. I politely decline. My friends join me at the table. McCall seems the most fascinated of the three. This is her first time in a strip club. "I sort of admire them," she says. "I mean, I feel pretty comfortable naked, but I could never do that."
Lindsey and Lexi leave to get a proper drink at the bar next door. McCall and I stay and watch a few of the dancers. The women here are fully nude, and they're not shy. "I heard the girls here were kind of gross," says McCall. "But these girls are actually really beautiful." She's right. (Jon Brown)
1:12 am
ICON DANCE CLUB, COEUR D'ALENE
There's a dude on the curb, swaying back and forth and muttering about the Holocaust. Further down the street, police gather. Then you reach the flood of people outside ICON. Among the revelers is the calm Jason Hufford, who came here with his friends to "have some fun." He says he's a regular at the club, especially in the summer, when he comes here every night. Hufford looks like this other big guy I saw earlier, at the bottom floor of the three-story club, having his own personal dance party with several much smaller women. Theirs was the kind of dancing you see at an 11-year-old girl's sleepover party.
This place is a maze. Upstairs is the entry level, home to two of the club's four bars and the dance floor. Impeccably groomed bros are doing that Jersey Shore fist pump to "Party in the USA" by Miley Cyrus. You can look out over the bromance on the dance floor from the third-level VIP room, which was not difficult to sneak into. Unlike the brouhaha outside, patrons inside ICON seem fairly nonchalant. No one is even giving the girl in the wheelchair a hard time on the dance floor. (Tiffany Harms)
1:28 am
KYRS RADIO
Lewis Pardun hopes someone in Spokane is listening. The DJ of KYRS Thin Air Radio's "Avant Gardening" show, Pardun is transmitting the bass beats of Flying Lotus across the airwaves as the city parties on this early Saturday morning. He got the gig hosting one of the station's avant-garde music shows three years ago, and every Saturday at midnight, he exposes Spokane to music that is "wholly different and strange." Pardun says he does it out of a passion for music and for community radio.
"[KYRS] is a cool little station," he says. "We have no oversight." That lack of corporate oversight means he's free to play whatever limit-pushing music he wants. Tonight's set list includes Autechre, Aphex Twin, Mogwai and other underground artists that come entirely from Pardun's own genre-crossing collection.
Tonight, like most nights, the station is empty except for Pardun and his music. He lets his iPod flow with the playlist he assembled before the show. No callers interrupt, but that's probably because Pardun doesn't solicit requests anymore, after only ever getting calls for pop boy-band rock. "If someone were to call now, I might honor their request," he says. But tonight, it's just him and his beats. (Chelsea Finger)
2:14 am
SPRAGUE AND WASHINGTON, DOWNTOWN SPOKANE
Lauren Bowker raises her voice to be heard over the din. "Spokane is missing a club scene that isn't run by douche Gonzaga guys!" Her shouted opinions mix with the yells and the cigarette smoke and the smell of chorizo that define this strip of sidewalk at closing time. It's brash. And it's not a place for the uncomfortably sober.
Gay, straight, tattooed, bearded, spotless, homeless and otherwise — they all find their way here. Angry drunks, glass-of-wine lightweights and the chemically friendly swerve and sway and almost collide, but tonight nothing untoward happens.
The magic that is bar-closing time sent these partiers scurrying 25 minutes earlier. Some were carried off. Many found seats in the Satellite Diner. Others, like Bowker, made their way to Irv's, where the alcohol-free dance party continues until 4 am.
"Mootsy's is the best place to go out," she says. "But I think Spokane is looking for a bar with some punk, some rockabilly, where people can go and just be themselves without being judged. Am I right?"
Her friends are sure that she is. And they have oodles of ideas about how Spokane can thrive after dark. But for now, they're happy with these places — and the "limited douche-bags" contained within. (Aaron Mahan)
3:07 am
IRV'S DANCE FLOOR
Amateurs take to the stripper pole. Same-sex and heterosexual couples bump and grind to a Salt-n-Pepa remix while women in fishnets and lingerie dance overhead in metal cages. "This is one of the better nightclubs open until 4 am," says Ryan Buchanan, 25, as he navigates his way through the crowd. Buchanan is a referee for the Lilac City Roller Girls and tonight he's dancing — fighting the sweat that drips down from his fedora and onto his perfectly chiseled face.
The gay-friendly nightclub is open late and keeps downtown Spokane alive and hopping on the weekends. Its proximity to the taco truck and the Satellite appeal to drunk, hungry patrons, but the no-holds-barred dance floor is the main attraction. Here, both shirtless men and bachelorette parties find refuge.
Buchanan says the drunk crowd usually shows up around 1:30 am and leaves tired within a half-hour. Most of the time, it gets body-to-body on the dance floor. "But tonight it's kinda been a slow Friday," he says. Busy or not, he doesn't seem to mind much. Not at this hour. "You've just got to keep your mind open and be ready to dance." (Jordy Byrd)
4:48 am
PARK 'N' JET, SUNSET HIGHWAY
Adam and Becky Colbert are escaping to the Cayman Islands. Clutching their sleeved Starbucks coffee cups against the early morning cold, they're hopping the Park 'n' Jet shuttle to a terminal at Spokane International.
The Colberts operate a towing and automotive service in Ritzville, and they got up at 3 am — "had to feed the animals, do some chores" — to catch today's flights from Spokane to Denver and on to Miami, where they're going to catch an eight-day cruise.
The Colberts sell AC Delco parts, and the cruise is the company's way of thanking their vendors. This year's itinerary includes Belize, Honduras and Mexico. In previous years, they've soaked up rum and sun in the Dominican Republic, Turks and Caicos, and St. Kitts.
It'll be nine hours before the Colberts land in Miami, even longer before they board their cruise ship.
Here in Spokane, the sun won't be up for another hour. It's time to call it a night. (Michael Bowen)