A photograph of Jesse James sitting next to his assassin, Robert Ford, could be worth far more than the $10,000 bounty that was on James' head in 1882.
Following in his older brother Frank's footsteps, James joined Confederate guerrillas at 16 years old. At the end of the Civil War, James continued the Confederate fight by leading a gang of outlaws robbing banks, stagecoaches and trains owned by Northern institutions.
These legendary outlaws roamed the West and holed up in a number of hiding places.
That's how this photo landed in the hands of Pauline Higgins in Cedar County, Missouri, who then passed it down from daughter to daughter to daughter to Sandy Mills.
Mills, 40, a house cleaner, lives north of Spokane with her boyfriend, Tom Razo, and five children.
"My grandma had it wrapped up in a hankie," Mills says. "She's always cherished it. Everyone in my family did, which is why it has been kept in good condition for 130 years."
Mills was given the tintype in 2003 by her grandmother, Isabelle Klemann, who died in 2006.
"She told me to buy some land and find a good man," Mills says.
Mills tried to sell the tintype for years, but no one believed it was real. She and Razo then contacted Lois Gibson, a forensic artist for the Houston Police Department who has authenticated photographs and people for 33 years.
Gibson compared the image with five authenticated photographs of James and one known established photograph of Ford.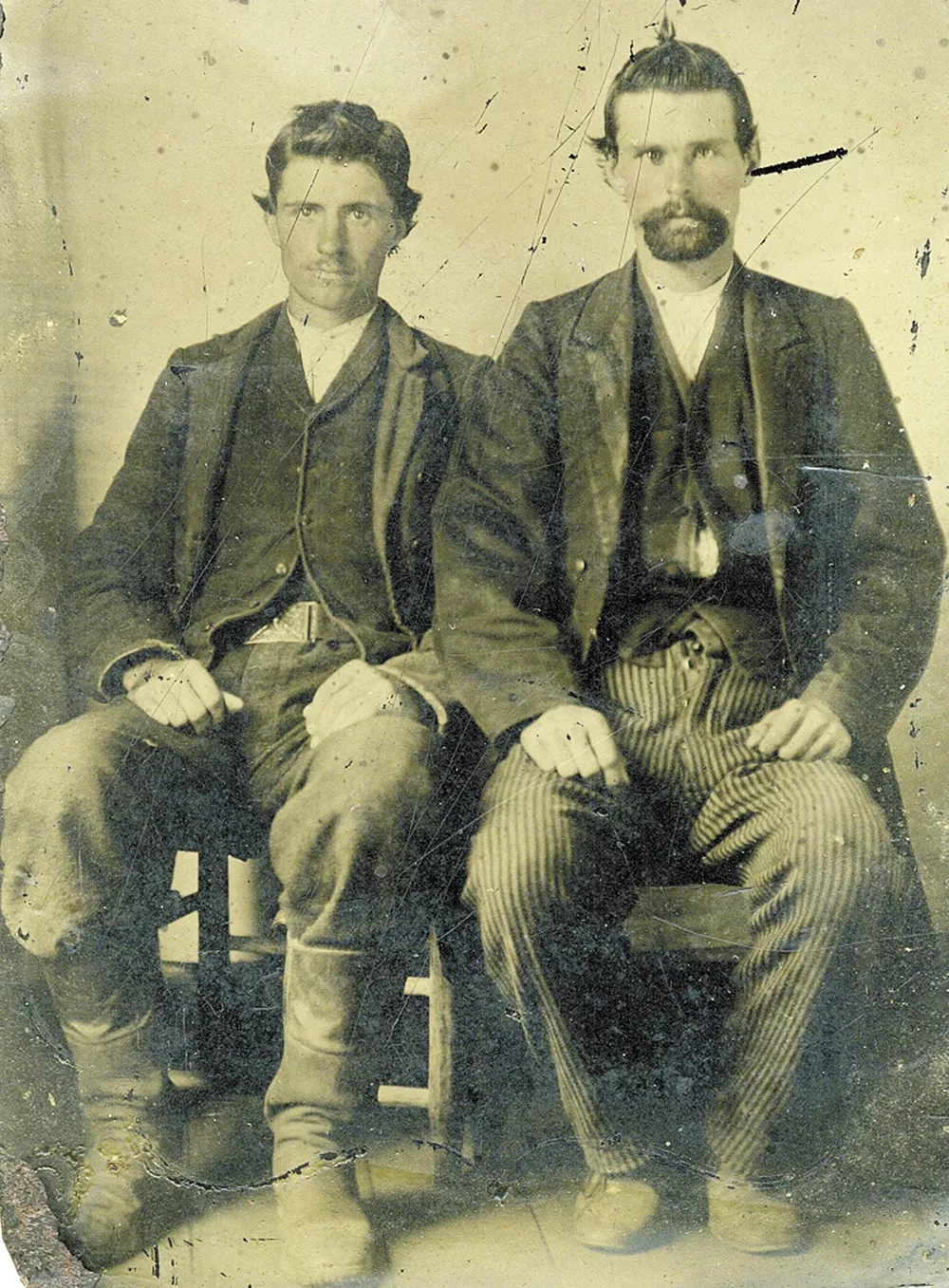 "I kept looking at every detail and each time I could not eliminate [it]," Gibson says.
For example, she looked at the distance from James' mouth to his nose, the texture of his hair and the "slight anomaly of Jesse James's left eye/eyebrow being slightly bigger than his right eye/eyebrow."
The tintype was consistent.
"I'm a weepy person and I was almost crying for joy," Gibson says. "I pictured her buying a big house."
Gibson authenticated a photograph of Billy the Kid in 2014, which sold for $2.3 million. She believes this photograph of James and Ford could be worth more.
"Now we can prove those people wrong," Gibson says.
A few months after first making contact with Gibson, Mills and Razo were vindicated, with a lot more emotion and tears than Mills and Razo expected.
"We screamed and hollered and jumped up and down," Razo says.
All of their work building a family tree and finding a way to establish the tintype finally paid off after 12 years. Now they just want to show the world this picture and the history of the legendary outlaw.
The yellowish tintype, a little larger than the palm of Mills' hand, is estimated to have been taken in the early 1880s. James sits in striped pants, with disheveled jacket and hair, in a chair alongside his charming fellow gang member, Ford.
James and his brother, Frank James, trusted the Ford brothers and hid with them during this time. Gibson believes the photograph was taken while Ford looked up to James and before he betrayed him.
Ford shot James in the back of the head to collect the reward money. For this, Mills' ancestors had referred to Ford as a coward, Gibson says.
Her ancestors appreciated and respected James.
"He was fighting for what he believed in, like we do today," Razo says.
As a little girl, Mills would run up to ask her grandmother to show her the family heirloom inside her handkerchief. Now, the imaginations of the children in her house embrace it as well.
"It's been amazing to share this with my family," Mills said.
If the price is right, Mills will use the money to buy some land, just as her grandmother told her to do.
"I think she would be absolutely content," Mills says. "She trusted me with it and wanted me to have a good life." ♦