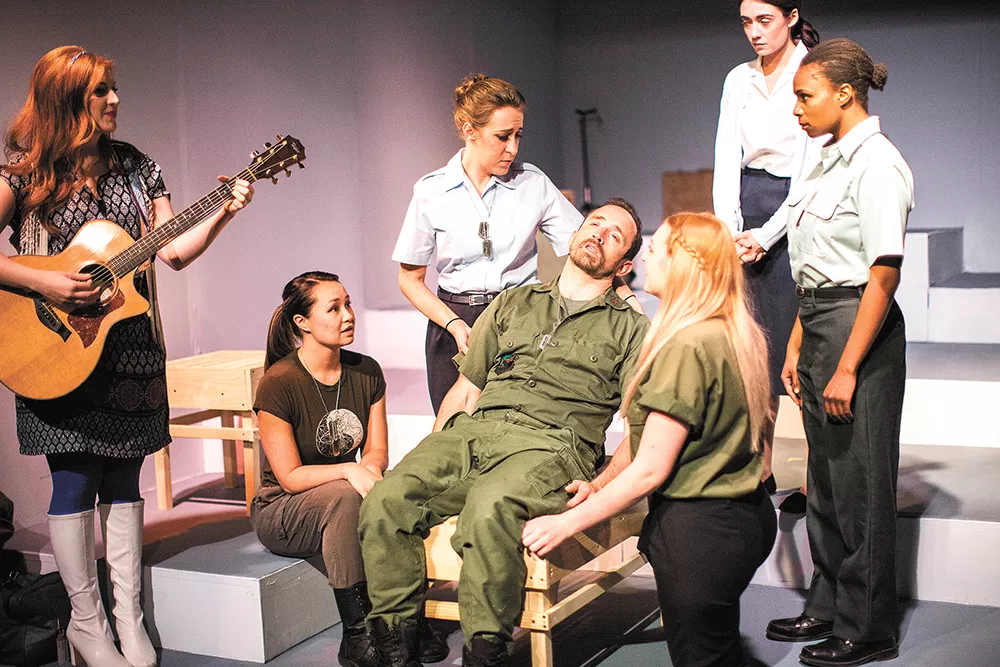 Although A Piece of My Heart is deliberately and inextricably embedded in the Vietnam War era, it's tough — almost impossible — not to view Shirley Lauro's 1991 play about women in the war zone in the strange context of the present. Beyond the doors of Stage Left Theater, the presidential election is morphing into a referendum on institutionalized sexism, and the hashtag #RepealThe19th is trending as an unfunny misogynist joke on social media. So when one of the play's young female characters is presented with a menu of only three career options — "a nurse, a teacher or a secretary" — and another becomes the silenced victim of predatory G.I.s, the intervening decades between then and now do little to dampen the sting.
On paper, Lauro's work does tread awfully close to third-wave, girl-power cliché. There are six primary female roles, each designed to embody a different aspect of wartime experience: Whitney (Jennie Oliver), the privileged, lily-white Vassar grad who signs up for the Red Cross; MaryJo (Charisa Bareither), the starry-eyed Texas bandleader in search of her big break; Steele (Jaclyn Archer), the smart and indefatigable black Army NCO; Leeann (Dana Sammond), the New Yorker who enlists assuming her medical posting will be in Hawaii; Martha (Audrie Pursch), the upright, patriotic "Army brat" who wants to serve her country; and Sissy (Phletha Wynn-Hynes), the naive Pennsylvanian who chooses "nurse" from the three career options given above. A single actor, Chris Jensen, is responsible for playing The American Men — a role that, in purely conceptual terms, might seem pointedly reductive.
But incredibly strong ensemble acting and strong direction by Heather McHenry-Kroetch make this a moving, universally human set of parallel stories that nimbly sidestep the many opportunities they offer for formalism and mawkishness. The half-dozen characters (easily double that when you count fleeting ancillary roles) manage to capture a wide spectrum of experience without collapsing into caricature. Archer expresses warmth and humor behind the resolve her surname evokes.
Sammond, though sometimes sounding more Boston than New York, credibly conveys the sense of vulnerability that draws her into the tragic sanctuary of a battlefield romance. Pursch's performance is epitomized by her tearful breakdown, mascara streaming down her cheeks, threatening to stain her crisp military uniform. Contained in that moment is an essay on the nexus of femininity and fortitude.
Some of the women's personal narratives — Sissy and Martha in particular — do bleed into one another amid the chaos of incoming wounded and mortar rounds, but that's no matter. As an impressionistic, episodic piece that plays out on Matt Day's blank-canvas platformed set, A Piece of My Heart works exceedingly well. Most impressionistic of all are Jensen's characters. By and large he imbues them, however briefly, with the necessary humor, machismo or tenderness they call for.
The blocking has a choreographic feel to it, fluid and graceful. There's a risk of rushing through the spontaneous shifts in location and mid-scene character changes, especially during the frantic firefights and disarrayed homecomings, but the pacing is even-handed and rarely, if ever, diminishes the emotional impact of the performances. While A Piece of My Heart does sometimes seem like it's trying to cram far too much emotion and too many experiences into its two finite acts, this particular production succeeds in providing a powerful vehicle for both. ♦
A Piece of My Heart • Oct. 14-30: Fri-Sat, 7:30 pm; Sun, 2 pm • $10 • Stage Left Theater • 108 W. Third • 838-9727 • spokanestageleft.org