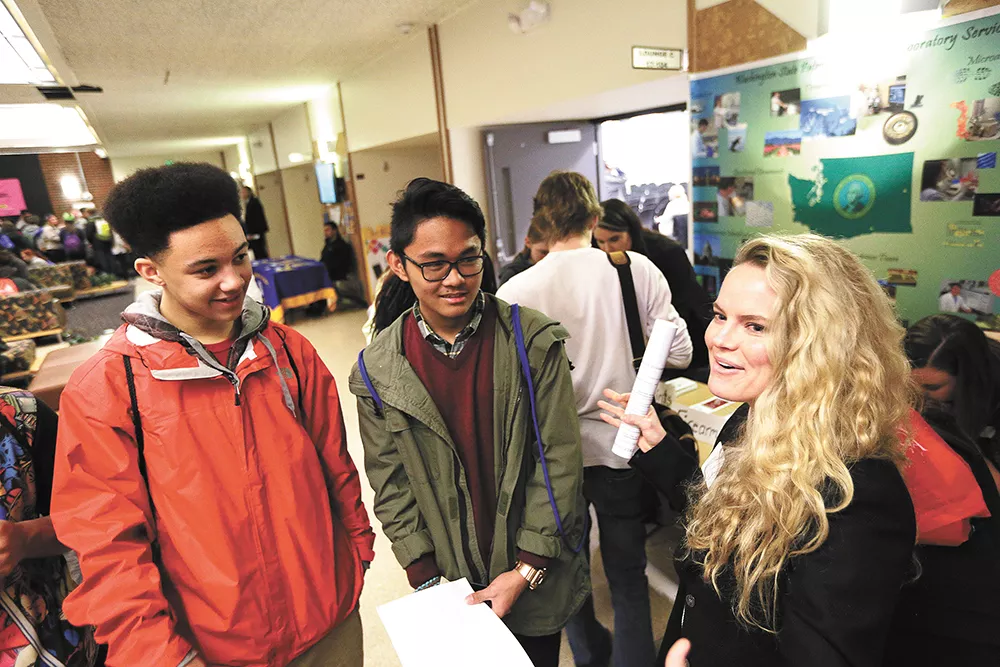 His dark hair is cropped short on the sides and left standing long on top, combed to the left. And his tummy is rumbling.
In a maroon sweater over a plaid collared shirt, dark pencil-leg pants, leather shoes and a gold G-Shock watch, Elijah Mananis looks like he's about to answer questions in a NBA postgame interview. The 5-foot-9 14-year-old is standing in the Spokane Falls Community College student union with a group of his buddies. Rather than answering questions himself, he's asking them of the excited third-year law student in their midst.
"What kind of law do you study?" "What happens if you mess up in court?" "Your entire grade is based on one test?" "What happens if you fail?"
The group of eighth-graders have just finished the circuit of military and law enforcement booths — where they fired questions at Spokane County sheriff's deputies, a Washington State Patrol trooper and a Spokane Police K9 handler. Now, this law student is the only thing standing between a group of hungry teenagers and their lunch. But Mananis and his friends continue with their line of questioning.
They're all here for the Youth and Justice Forum, a career fair of sorts meant to introduce kids to jobs in the justice system. In addition to information on the police and military, the kids talk to lawyers, judges, court reporters, a courtroom interpreter, a city councilman and, of course, law students.
Finally, when Mananis and his group's empty stomachs reach a fever pitch, they make their way to the lunchroom.
Between bites, the Glover Middle School student talks about his family, and asks questions of the reporter sitting next to him. He's always asking questions.
In the Philippines, where Mananis is from, sometimes the media gets information wrong or facts are distorted by bias, he tells me. "It's hard to determine what to believe, and I haven't figured it out over here yet."
Mananis moved to Washington state with his family three years ago when his father took a job as a minister in Marysville, he says. Spokane is the third city they've lived in since they moved here.
"Yeah, it's very hard," he says. "But it's my life."
He expects that his family will move again, but has no idea where. It could be elsewhere in Washington or somewhere else in the U.S. Or it could be back to the Philippines, a place where President Rodrigo Duterte's anti-drug campaign encourages the cold-blooded murder of users and dealers.
Most of the kids munching on sandwiches and macaroni salad around the table with Mananis are interested in the military, or a career as a cop. But Mananis has other plans. For all the uncertainty in his life, Mananis is sure of at least one thing — he wants to play in the NBA.
"There's very few Asians in the NBA," he says. "And I really want to get there."
He's a forward now, and averages about seven rebounds and one or two blocks per game. But he's working on ballhandling and his jumper. He knows that when he gets to high school next year, his 5-9 frame won't stretch as far.
But until he gets a scholarship to Kentucky, or maybe UCLA, he says, he'll continue asking questions. After lunch, he asks a Washington State Trooper what's the one thing he would change about his job.
The trooper has to think about it for a minute.
"The uniforms," he finally says. "They're made of wool, so they stink when they get wet." ♦