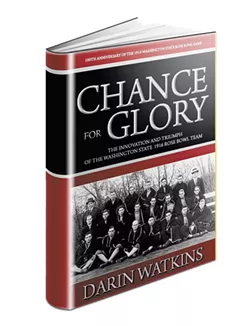 On Monday night, you'll see just how big college football has become when Clemson and Alabama face off in the College Football Playoff championship game down in Glendale, Arizona. It's a multibillion-dollar industry with a following that includes a sizable faction of the American population.
But the game wasn't always this way. Recruiting players wasn't a scientific, nation-spanning endeavor, bowl games weren't sponsored by mega-corporations, and television didn't bring the sport into just about every home because, well, television hadn't been invented yet.
At least not in the time to which Darin Watkins' Chance for Glory: The Innovation and Triumph of the Washington State 1916 Rose Bowl Team takes us. The book documents the unlikely rise of football at Washington State College, a school that at the time was struggling for its very existence as an emerging land-grant school.
Watkins, a longtime TV news reporter in the area and now a spokesperson for Washington State, employs a cinematic approach to telling the story of the team from Pullman that managed to land a spot in the Rose Bowl after an undefeated season. There's the eccentric coach, William "Lone Star" Dietz, who wore a top hat and managed to get his players jobs starring in a Hollywood movie while practicing for the Rose Bowl. The names alone seem tailor-made for a great story: quarterback Bull Durham, tackle and team captain Ace Clark, running back Benton Bangs. When Dietz arrives as coach, athletic director Doc Bohler has to summon the players out of the mines and logging camps of the region to come back to campus for football practice. And, of course, it's an underdog story, seeing as how Washington State was a perennial loser prior to the 1915 season.
Digging through records and old press clippings from the day, Watkins manages to capture much of the action on the field as Washington State pulverizes foes including Idaho, Oregon and Gonzaga — but not the University of Washington, which refused to play them. The game-by-game rundowns can be cumbersome; where Chance for Glory most shines is when it digs into the culture surrounding the sport at this time in a part of the country still finding its identity. The fields were muddy, the crowds were tiny in comparison to today, "road game" meant multi-day train rides and the athletic director of the college doubled as an assistant football coach/trainer/recruiter/spokesman.
It's a breezy and fascinating read, and a crash course in the early days of college football. For diehard Cougar fans, it should be required reading. ♦